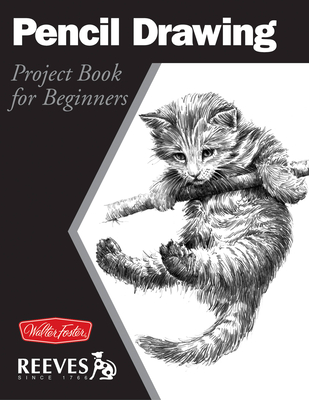 Pencil Drawing (Paperback)
Project book for beginners (WF /Reeves Getting Started)
Walter Foster Publishing, 9781560107392, 32pp.
Publication Date: January 1, 2003
* Individual store prices may vary.
Description
'The age-old art of drawing is one of the most important foundations of all the visual arts—and it's also a relaxing and enjoyable pastime! This book offers a simple, step-by-step approach to learning the fundamentals of sketching—from starting with basic shapes to rendering accurate still lifes, landscapes, animals, and portraits. You will learn techniques used to render various textures, including glass, metal, foliage, and fur. Even if your only experience with a pencil is writing with one, you're still perfectly capable of executing these easy-to-follow basics. Everyone who wants to practice and perfect their drawing skills will find this project book created by Walter Foster Publishing and Reeves to be a valuable tool.
About the Author
Michael Butkus was trained at Otis Parsons in Los Angeles and the Art Center College of Design in Pasadena, California. He has taught illustration and rendering techniques, along with character design and visual development, to art industry professionals and commercial art students. Michael has worked on more than 2,500 films in the areas of advertising, movie poster art, set design, and character design. Michael also invented and illustrated hundreds of characters for Lucasfilms' Shadow of the Empire. Clients include Paramount, Warner Brothers, Universal, Disney, DreamWorks, and LucasArts, as well as a number of toy companies that employ his imaginative creations and conceptual renderings for product design. Michael lives in Los Angeles, CA.
The late Eugene Metcalf's natural talent in various art fields established him as a top calligrapher and designer. With a specialty in lettering design, Metcalf created logos for a variety of commercial applications. Of his more than 30 years in the commercial art industry, almost half of them were spent as art director and top designer for major outdoor advertising companies in the Los Angeles area.
Recognized as one of America's foremost colorists, William F. Powell has taught art classes and workshops for 35 years in various art media. Today he is an extremely popular author, and he attracts more admirers each year with the numerous titles he has produced for Walter Foster Publishing, including Color Mixing Recipes, which he originally conceptualized, designed, and illustrated himself.
Mia Tavonatti is an artist with a variety of interests, including a strong passion for painting and drawing. She moved from Michigan to California to attend art school at California State University, Long Beach, where she earned her BFA and MFA in illustration. She has also studied painting abroad, and she loves to spend her summers painting in Greece. Mia has exhibited her work extensively, both in Europe and throughout the United States. She is the recipient of numerous scholarships and awards, and her work can be seen on more than 45 book covers and in several magazines. In addition to her illustrative work, she has created a number of murals and commissions for restaurants, private residences, and corporations. She teaches illustration and painting at the Art Institute of Southern California in Laguna Beach and currently resides in Costa Mesa, California.