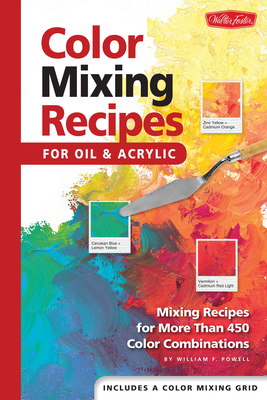 Color Mixing Recipes for Oil & Acrylic (Hardcover)
Mixing recipes for more than 450 color combinations
Walter Foster Publishing, 9781560108733, 48pp.
Publication Date: July 1, 2004
* Individual store prices may vary.
Description
'The popular Color Mixing Recipe Cards by William F. Powell has served as a handy reference of essential color combinations for almost 10 years. And now this collection of recipes is available in an updated, convenient format developed with your needs in mind! Conveniently packaged in a concealed wire-o-bound book that lies flat when opened, the recipe cards will always stay in order with no risk of getting lost. The book also includes a Color Mixing Grid—the perfect guide for accurately measuring paints. With mixing recipes for more than 450 color combinations, along with instruction in a variety of painting techniques, Color Mixing Recipes is a valuable and practical resource for both oil and acrylic artists
About the Author
William F. Powell is an internationally recognized artist and one of America's foremost colorists. A native of Huntington, West Virginia, Bill studied at the Art Student's Career School in New York; Harrow Technical College in Harrow, England; and the Louvre Free School of Art in Paris, France. His experience as an art instructor includes oil, watercolor, acrylic, colored pencil, and pastel-with subjects ranging from landscapes to portraits and wildlife. Additionally, Bill conducts painting workshops and produces instructional videos that employ unique methods of in-depth presentation and demonstration. Bill holds awards for his technical art, which has been used for major projects, such as space programs and environmental studies. He lives in Temecula, CA.