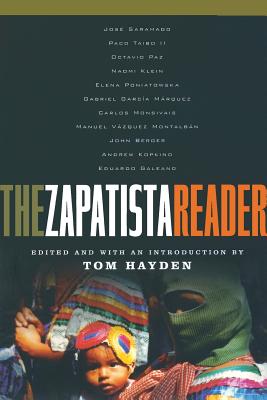 The Zapatista Reader (Nation Books)
Paperback

* Individual store prices may vary.
Description
The electrifying effect the Zapatista peasant rebellion has had on leading figures in the intellectual, political, and literary world since the Zapatistas woke them up on New Year's Day, 1994, has provided inspiration for activists all over the world. A remarkable synergy has also developed between leading writers, novelists, and journalists and Subcomandante Marcos, the enigmatic, pipe-smoking and balaclavered leader of the Zapatista Army of National Liberation, who seems like a character out of a "magical realism" novel. This reader includes a wide sampling of the best of the writing to emerge on the subject. The book is a journey through an insurgent and magical world of culture and politics, where celebrants and critics debate what Carlos Fuentes has described as the world's first 'post-communist rebellion.' Included are essays by Paco Taibo II, Octavio Paz, Carlos Fuentes, Elena Poniatowska, Ilan Stavans, Carlos Monsivais, Jorge Castenada, Jose Saramago, John Berger, Marc Cooper, Andrew Kopkind, Bill Weinberg, Gabriel Garcia Marquez, Alma Guillermoprieto and Eduardo Galeano.
Bold Type Books, 9781560253358, 400pp.
Publication Date: January 4, 2002
About the Author
Tom Hayden has been a leader of anti-war, civil rights, and environmental movements in America since the 1960s. He drafted the famous "Port Huron Statement" for Students for a Democratic Society.

A California State Senator for eighteen years, he is the author and editor of many books including Reunion: A Memoir; Irish Hunger; and Irish on the Inside: In Search of the Soul of Irish-America; Trial; The American Future, and The Lost Gospel of the Earth.