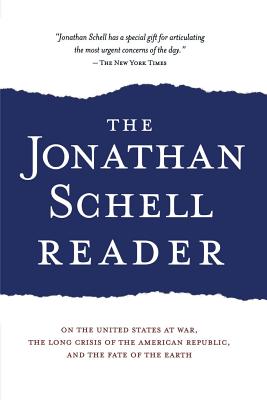 The Jonathan Schell Reader (Paperback)
On the United States at War, the Long Crisis of the American Republic, and the Fate of the Earth
Bold Type Books, 9781560254072, 376pp.
Publication Date: December 30, 2004
* Individual store prices may vary.
Description
At times of global crisis, Jonathan Schell's writings have always presented nuanced and influential alternatives to conventional thinking. The moral clarity of his reportage first entered the public consciousness with his dispatches for The New Yorker on Vietnam. These seminal articles became The Village of Ben Suc (1967), a searing account that predicted the failure of Pentagon politics. Over the subsequent decades, Schell's varied and consistently prescient articles have articulated the now commonly held notion that image has replaced substance in politics; provided (in Fate of the Earth) an apocalyptic vision of nuclear war that revitalized the disarmament movement; and more recently, charted the rise of "the other superpower"—the international peace movement that transcends country, class, and religion. As America finds itself at a crucial juncture both domestically and internationally, The Jonathan Schell Reader is vital reading for those who wish to better understand the history they have come from and the direction they should be heading toward. This book provides a landmark collection that spans the career of one of the leading thinkers and authors of our time.
About the Author
Jonathan Schell was born in 1943 in New York City, where he still lives. Among his previous books is the best-selling The Fate of the Earth. His writing on Vietnam has been included in the Library of America's recent two-volume Reporting Vietnam.