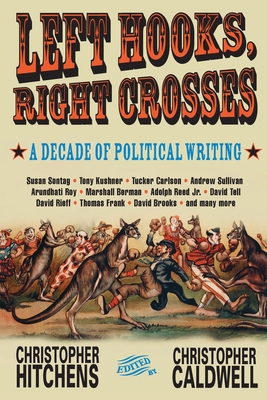 Left Hooks, Right Crosses
A Decade of Political Writing (Nation Books)
Paperback

* Individual store prices may vary.
Description
Christopher Hitchens, provocateur and contrarian on the Left, makes the news as often as he reports it, and writes about the most controversial news and current events. Christopher Caldwell is a fresh and objective columnist in the opposite camp. Together, they present the best writing from opposite corners of the political ring at the end of the last century. These incisive observers examine each other's choices and discuss in separate introductions just what they think of the picks.

"Hitchens has made a career of disagreement and dissent, of being a thorn in search of a side." -- Publishers Weekly

"[Hitchens] is an irritable, irreverent, sarcastic, witty, and intelligent champion of the Left." -- Library Journal
Bold Type Books, 9781560254096, 414pp.
Publication Date: November 8, 2002
About the Author
Christopher Hitchens is a contributing editor to Vanity Fair. His numerous books include Letters to a Young Contrarian and Why Orwell Matters.