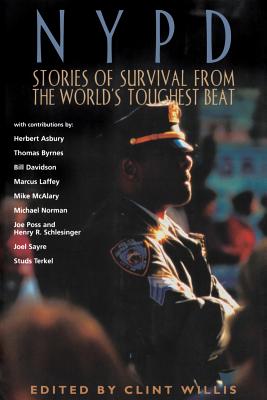 NYPD
Stories of Survival from the World's Toughest Beat (Adrenaline)
Paperback

* Individual store prices may vary.
Description
New York has always inspired larger-than-life tales and great writing -- but on the topic of cops and crime it provides more raw material than almost anywhere else. A long history of classic films, television hits, and of course, books, have turned the New York City Police Department into a symbol for the dark drama of urban police work. And the rich and colorful vein of literature which has grown up around this culture makes NYPD not only a gripping read but a literary tour de force. Adrenaline Books takes you inside this gritty, tough life of being a cop in New York City. In addition to works by best-selling authors such as Peter Maas and Tom Wolfe, the book will include selections that offer a broad and deep look at the department's many faces: Carsten Stroud tells what it's like to track down a killer; Richard Rosenthal offers a sense of the pressures and risks of going undercover; and Bill McCarthy and Mike Mallowe offer a guided tour of the city's dregs and the pressures of working with its hardest cases. Philip Gourevitch's account of a cop's dedicated efforts to resurrect a cold case; Marcus Laffey's already near-classic articles on life as a patrolman; and Peter Hellman's best-seller Chief, written with an NYPD chief of detectives help round out this fascinating view of the NYPD and the forces that have made it such a compelling subject for so many good writers.

" ... Try Adrenaline Books.... In three years, this 20-volume anthology series has earned a cult following." -- ESPN the Magazine
Da Capo Press, 9781560254126, 364pp.
Publication Date: October 28, 2002
About the Author
Clint Willis has published more than forty books, including anthologies on topics such as adventure, politics, relgion, and war. His work has appeared in hundreds of publications, including Men's Journal, Outside, and the New York Times. His work has also been nominated for the American Society of Magazine Editors' National Magazine Award.