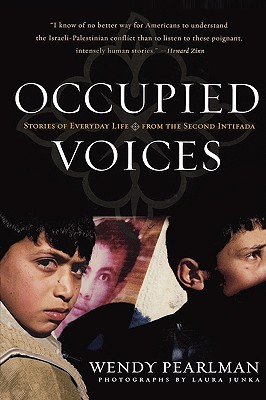 Occupied Voices
Stories of Everyday Life from the Second Intifada (Nation Books)
Paperback

* Individual store prices may vary.
Description
As the Middle East peace process disintegrates and the second Palestinian Intifada begins, Wendy Pearlman, a young Jewish woman from the American Midwest travels to the West Bank and Gaza Strip in a quest to talk to ordinary Palestinians. A remarkable narrative emerges from her conversations with doctors, artists, school kids, and families who have lost loved ones or watched their homes destroyed. Their stories, ranging from the humorous to the tragic, paint a profile of the Palestinians that is as honest as it is uncommon in the Western media: that of ordinary people who simply want to live ordinary lives. As Pearlman writes, "the personal stories and heartfelt reflections that I encountered did not expose a hatred of Jews or a yearning to push Israelis into the sea. Rather, they painted a portrait of a people who longed for precisely that which had inspired the first Israelis: the chance to be citizens in a country of their own."
Bold Type Books, 9781560255307, 250pp.
Publication Date: July 1, 2003
About the Author
WENDY PEARLMAN is studying for her Ph.D. in Government at Harvard University. Her commentaries on Middle East affairs have appeared in numerous publications, including the Washington Post, Boston Globe, and Philadelphia Inquirer.

LAURA JUNKA is from Helsinki, Finland. She studied at the University of Art and Design of Helsinki and the Bezalel Academy of Fine Arts in Jerusalem. Her photographs from throughout the Middle East have appeared in private exhibitions and Finish publications.