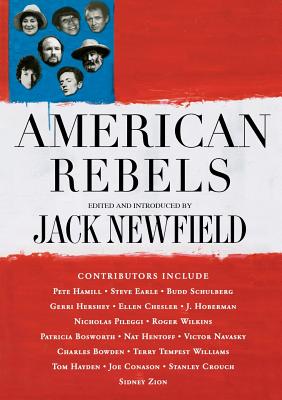 American Rebels (Paperback)
Bold Type Books, 9781560255437, 352pp.
Publication Date: January 5, 2004
* Individual store prices may vary.
Description
American Rebels is an anthology of specially commissioned essays by leading American writers that attempt to reconcile authentic patriotism with original artistic creation, unpopular opinion, and real moral principles that don't change with the winds. It includes rebels in politics, education, journalism, religion, literature, film, sports, music, law, popular culture, and social struggle. These are real rebels against conformity, commercialism, racism, oligarchy, the bogus conventional wisdom, stacked decks, and sacred cows. The Americans celebrated don't fit under any one ideology or party. They are too free-spirited to be categorized, belonging to a continuum of conviction and creation in our tangled national history. Some, like Walt Whitman, Bob Dylan, Marlon Brando, and Frank Sinatra, are famous. Others are less well known but have earned a broad appreciation; among them are Sam Fuller, Paul O'Dwyer, and Mike Harrington. Still others like Edward Abbey, Benjamin Mays, and Bill Hicks are almost cult figures—revered by a small, intense following. Others have faded from memory, like Margaret Sanger and Clarence Darrow, and deserve a new shaft of sunlight. This groundbreaking collection includes original essays by Pete Hamill, Stanley Crouch, Budd Schulberg, Danny Goldberg, J. Hoberman, Patricia Bosworth, Tom Hayden, Steve Earle, and others.