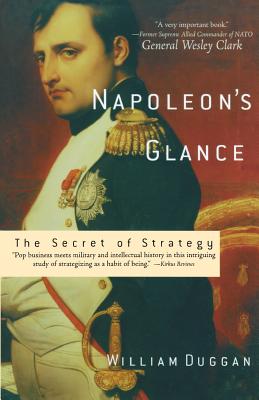 Napoleon's Glance
The Secret of Strategy (Nation Books)
Paperback

* Individual store prices may vary.
Description
In Napoleon's Glance William Duggan discovers the secret of Napoleon's success -- coup d'oeil (pronounced koo-DOY) meaning a stroke of the eye, or "glance": a sudden insight that shows you what course of action to take. It comes from knowledge of the past: You draw on what worked in other situations, in a new combination that fits the problem at hand. Napoleon's Glance -- probably the first book to link Napoleon's victories to Picasso's development as an artist! -- tells how 10 great strategists owed their success to coup d'oeil. All 10 applied it with great effort and risk and no guarantee it would work. But in case after case, we find the same story: How American women won the vote. How General Patton became the most successful Allied general on the Western Front of World War II. How Joan of Arc saved France from certain conquest by England. How in one generation Japan went from a peasant backwater to an industrial giant. How Picasso became the leading artist of the twentieth century. Though there have been scores of books written about Napoleon, this is the first popular book written for the general reader about his military strategy.
Bold Type Books, 9781560256021, 304pp.
Publication Date: March 19, 2004
About the Author
William Duggan teaches strategy at Columbia Business School. He has twenty years of experience as a strategy advisor and consultant. He is also cofounder of Creative Strategy group, which helps organizations and individuals apply the art of Napoleon's strategies to whatever they do.