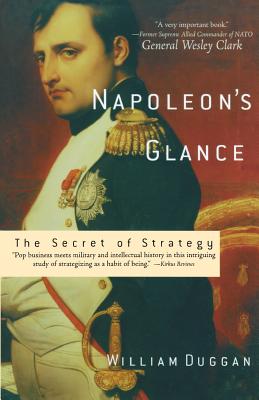 Napoleon's Glance (Paperback)
The Secret of Strategy
Bold Type Books, 9781560256021, 304pp.
Publication Date: March 19, 2004
* Individual store prices may vary.
Description
When Napoleon's Glance was first published last spring, former NATO secretary general and now putative presidential candidate Wesley Clark declared, "This is a very important book." In Napoleon's Glance strategist William Duggan shows how Clark, along with ten other important figures in the fields of politics, war and culture, owed their success to coup d'oeil. But what is coup d'oeil? Carl von Clausewitz spent twenty years struggling to pin down the genius of Napoleon. In chapter six of what would become "On War" he discovered the secret of Napoleon's strategy: Napoleon's glance. Clausewitz calls it "coup d'oeil" meaning a stroke of the eye, or "glance." A sudden insight that shows you what course of action to take, it comes from knowledge of the past, drawing on what worked in other situations in a new combination that fits the problem at hand. In Napoleon's Glance, Duggan expertly weaves intellectual history and biography in showing how important and decisive coup d'oeil is in determining victory in war, art, the civil rights movement, third world development, and the battle for women's suffrage in America.