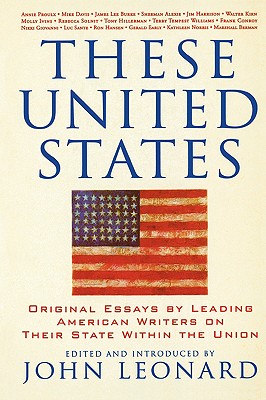 These United States
Original Essays by Leading American Writers on Their State Within the Union (Nation Books)
Paperback

* Individual store prices may vary.
Description
In 1922, The Nation launched a series of forty-nine articles by a distinguished group of writers -- novelists, journalists, educators, social workers, lawyers, unionists, and maverick intellectuals -- each of whom was asked to contemplate his or her state of the union. Their essays were collected and published in a volume: These United States: Portrait of America from the 1920s. In 2002 Nation Books set out to create a contemporary portrait of America with the critic John Leonard as editor. Each contributor was asked to write 2,500 words on his or her state in the union. Every state will be represented, as well as New York City, Long Island, and Northern and Southern California. The results of this ambitious project are now being published together for the first time. Taken as a whole these essays form less a symposium than a remarkably evocative crazy-quilt of styles that reveal the many moods, apprehensions, complexities, and contradictions held within these United States. Some of the 115 confirmed contributors include: Charles Bowden, Arizona; Ana Castillo, Illinois; Jim Harrison, Michigan; Luc Sante, New Jersey; Tony Hillerman, New Mexico; Sherman Alexie, Washington; and Annie Proulx, Wyoming.
Bold Type Books, 9781560256182, 528pp.
Publication Date: September 8, 2004
About the Author
John Leonard is the mixed media critic for CBX News Sunday Morning, reviews televison for New Yrk maazine and reviews books for Harpers and The Nation. He has been the editor of the New York Times Book Review and literary co-editor of The Nation. His books include Lonesome Rangers, When the Kissing Had to Stop, and The Last Innocent White Man in America.