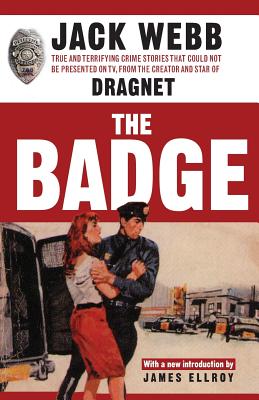 The Badge
True and Terrifying Crime Stories That Could Not Be Presented on TV, from the Creator and Star of Dragnet
Paperback

* Individual store prices may vary.
Description
"This is the city, Los Angeles, California. I work here, I carry a badge. The story you are about to see is true..."

Before Charlie's Angels, Miami Vice, or NYPD Blue, there was Dragnet. From 1951 to 1959, Jack Webb starred as Sergeant Joe Friday in the most successful police drama in television history. Webb ("Just the facts, ma'am") was also the creator of Dragnet, and what made the show so revolutionary was its documentary-style format and the fact that each episode was "ripped" from the files of the LAPD.

But 1950s television censors deemed many of the stories in the LAPD's files too violent or sensational for the airwaves. The Badge is Webb's collection of stories that could not be presented on TV: untold, behind-the-scenes accounts of the Black Dahlia murder, the Brenda Allen confessions, Stephen Nash's "thrill murders," and Donald Bashor's "sleeping lady murders," to name just a few. Case by case, The Badge takes readers on a spine chilling police tour through the dark, shadowy world of Los Angeles crime.

"Some books influence a writer. Books rarely shape a writer's curiosity whole. I'm anomalous that way. I got lucky at the get-go. It was one-stop imaginative shopping. I found all my stuff in one book." -- James Ellroy on The Badge
Da Capo Press, 9781560256885, 348pp.
Publication Date: May 5, 2005
About the Author
Jack Webb began in film, but it was Dragnet that brought him popular and critical acclaim. After Dragnet, Webb returned to feature films both as a director and as an actor, and for a time was head of Warner Television. Upon his death in 1982 he was buried with full honors by the LAPD, including a seventeen-gun salute.

James Ellroy is the bestselling author of L.A. Confidential, The Black Dahlia, and My Dark Places, among others.