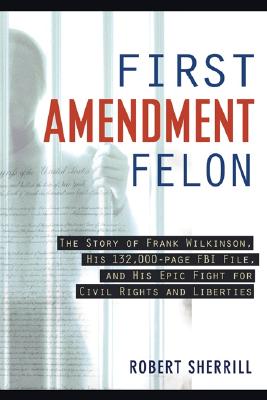 First Amendment Felon
The Story of Frank Wilkinson, His 132,000 Page FBI File and His Epic Fight for Civil Rights and Liberties
Paperback

* Individual store prices may vary.
Description
Congress shall make no law . . .abridging the freedom of speech or of the press, or the right of people to peaceably assemble. These words have guided the life of Frank Wilkinson, perhaps the nation's staunchest defender of civil liberties, to the degree that Life Magazine, in an issue given over to the two-hundred-year history of the Bill of Rights, featured a lengthy profile of him. This is the story of an ordinary, even conservative, American who became the accidental champion of our right to speak, and (by extension) to think, what we choose. Wilkinson's life has been a David-and-Goliath battle against enemies of the First Amendment. He was jailed in 1958 when HUAC cited him for contempt (the Supreme Court notoriously ratified this decision). From 1956 to 1975, he traveled an average of one hundred days a year in thirty-five states to warn of the liberties under attack by the FBI and its marionettes. His chief antagonist was J. Edgar Hoover, who compiled a 132.000 page dossier on him. First Amendment Felon is written by one of the most celebrated political reporters of our age, charting Wilkinson's life from a college playboy to our most determined defender of the First Amendment.
Bold Type Books, 9781560257790, 400pp.
Publication Date: November 10, 2005
About the Author
Robert Sherrill lives in Tallahassee, Florida. He is a former editor of Texas Observer, DC Bureau chief for the Miami Herald, a reporter for the Washington Post, contributor to the New York Times, and has been a long-time contributor to the Nation, where he is currently a contributing editor. He has written numerous books on politics and society, including The Drugstore Liberal, Military Justice Is To Justice as Military Music Is To Music, The Saturday Night Special, The Last Kennedy and The Oil Follies of 1970-1980: How the Petroleum Industry Stole the Show (And Much More Besides).