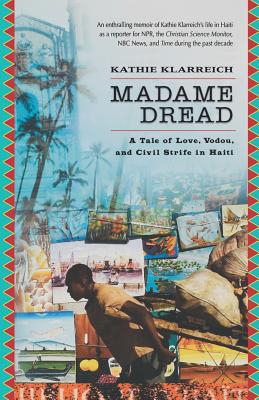 Madame Dread (Paperback)
A Tale of Love, Vodou, and Civil Strife in Haiti
Bold Type Books, 9781560257806, 368pp.
Publication Date: August 23, 2005
* Individual store prices may vary.
Description
Kathie Klarreich, a white Jewish girl from the West Coast, arrived in Haiti as a naïve twenty-something in the late 1980s. There she worked for a fair trade organization. Weeks became months, and months became years, as Klarreich, despite the spiraling political violence, became enthralled by the island, its lifestyle and traditions, to the extent that she started to grow dreads, attend Voodoo masses and started to file reports for the Christian Science Monitor and its attendant radio station. Klarreich saw civil violence, mass slaughter, coups, and U.S. intervention all up-close, and on a daily basis as a reporter. Often risking life and limb, accused of being a CIA agent by her enemies, she lost a man she loved due to an assassin's bullet—but she established credentials, contacts and developed an unsparing eye that led major news organizations such as The New York Times, ABC, CNN, Fresh Air and Time magazine to regard her as nonpareil throughout the turbulent decade. This compelling memoir interweaves shattering political events with an intensely personal narrative about the Haitian musician Klarreich eventually marries (and has a child with), who turns out to be as enthralling and complicated as the political events she covered.
About the Author
Kathie Klarreich lives in Florida. As a reporter based in Haiti she reported for The Christian Science Monitor, NPR Fresh Air, All Things Considered, US News and World Report, Time Magazine, New York Times, Miami Herald, and the New York Times.