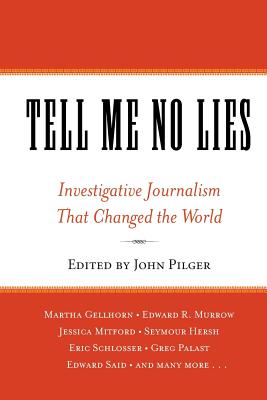 Tell Me No Lies (Paperback)
Investigative Journalism That Changed the World
Basic Books, 9781560257868, 656pp.
Publication Date: August 23, 2005
Other Editions of This Title:
Paperback (10/6/2005)
* Individual store prices may vary.
Description
Prison scandals, terrorism, corporate fraud, election rigging—most likely you have heard something of the sort in the last ten minutes. But what is truth and what is part of the great "washout" of biased reporting? A celebration of lucid investigative reporting, selected by titan of the craft John Pilger, could come at no better moment. Pilger's book travels through contemporary history, from war correspondent Martha Gelhorn's wrenching 1945 account of the liberation of Dachau to Edward R. Murrow's groundbreaking excavation of McCarthyism to recent coverage of the war in Iraq. This homage to brave, often unsettling coverage features a range of great writing, from Seymour Hersh's Vietnam-era muckraking to Eric Schlosser's exposé of the fast-food industry to preeminent theorist Edward Said's writing on Islam and terrorism. Unrepentant in its mission to expose the truth behind the messages that politicians, warmongers, and corporate-run media inculcate, Tell Me No Lies is essential for anyone who wants to understand the world around them objectively and intelligently. It's not just a collection of high-quality reporting, but a call-to-arms to all who believe in honesty and justice for humanity.
About the Author
John Pilger is a two-time winner of British journalism's highest award, Journalist of the Year, and has won the United Nations Association Media Peace Prize. For his broadcast journalism he has won an Oscar, an Emmy, France's Reporter Sans Frontières, and Britain's Richard Dimbleby Award. He lives in London but makes frequent trips to Cornell University, where he holds a Frank H. T. Rhodes Professorship.