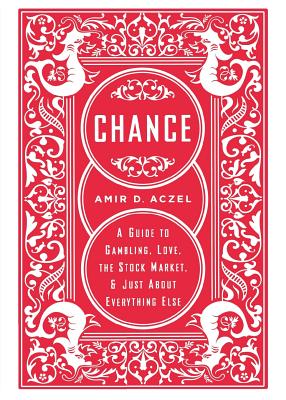 Chance (Paperback)
A Guide to Gambling, Love, the Stock Market, and Just About Everything Else
Basic Books, 9781560257943, 176pp.
Publication Date: December 21, 2005
Other Editions of This Title:
Hardcover (10/1/2004)
* Individual store prices may vary.
Description
In Chance, celebrated mathematician Amir D. Aczel turns his sights on probability theory -- the branch of mathematics that measures the likelihood of a random event. He explains probability in clear, layman's terms, and shows its practical applications. What is commonly called luck has mathematical roots and in Chance, you'll learn to increase your odds of success in everything from true love to the stock market. For thousands of years, the twin forces of chance and mischance have beguiled humanity like none other. Why does fortune smile on some people, and smirk on others? What is luck, and why does it so often visit the undeserving? How can we predict the random events happening around us? Even better, how can we manipulate them? In this delightful and lucid voyage through the realm of the random, Dr. Aczel once again makes higher mathematics intelligible to us.
About the Author
Amir D. Aczel, a visiting scholar in the history of science at Harvard, earned both his B.A. in mathematics and master of sciences degree from the University of California at Berkeley, and a Ph.D. from the University of Oregon. His books have been translated into fifteen languages. He lives outside Boston.