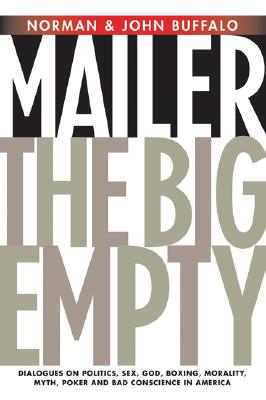 The Big Empty: Dialogues on Politics, Sex, God, Boxing, Morality, Myth, Poker and Bad Conscience in America (Paperback)
Dialogues on Politics, Sex, God, Boxing, Morality, Myth, Poker and Bad Conscience in America
Nation Books, 9781560258247, 240pp.
Publication Date: January 1, 2006
* Individual store prices may vary.
or
Not Currently Available for Direct Purchase
Description
"Questions are posed," writes Norman Mailer, "in the hope they will open into richer insights, which in turn will bring forth sharper questions." In this series of conversations, John Buffalo Mailer, 27, poses a series of questions to his father, challenging the reflections and insights of the man who has dominated and defined much of American letters for the past sixty years.

Their wide-ranging discussions take place over the course of a year, beginning in July 2004. Set against the backdrop of George W. Bush's re-election campaign and the war in Iraq, each considers what it means to live in America today. John asks his father to look back to World War II, and explore the parallels that can—and cannot—be drawn between that time and our current post-9/11 consciousness.

As their conversations develop, the topics shift from the political to the personal to the political again, as they duck and weave around one another. They explore their shared admiration of boxing and poker, the nature of marriage and love, television, movies, writing, and what it means to be a part of this extraordinary family.
About the Author
Norman Mailer was born in 1923 and published his first book, The Naked and the Dead, in 1948. The Armies of the Night won the National Book Award and the Pulitzer Prize in 1969. Mailer recieved another Pulitzer in 1980 for The Executioner's Song. He lives in Provincetown, MA, and Brooklyn, NY.John Buffalo Mailer is an actor, screenwriter and journalist. He lives in Brooklyn, NY.
Advertisement