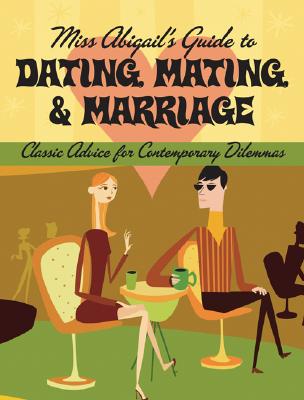 Miss Abigail's Guide to Dating, Mating, and Marriage (Paperback)
Classic Advice for Contemporary Dilemmas
Da Capo Lifelong Books, 9781560258353, 224pp.
Publication Date: February 28, 2006
* Individual store prices may vary.
Description
Since 1998, Miss Abigail's Time Warp Advice (missabigail.com) has provided classic advice for contemporary dilemmas to readers of all ages, from all walks of life. Author Abigail Grotke offers readers a chance to step back in time as she pulls out relevant quotes, tidbits, and words of wisdom from her collection of old advice books in a quest to solve modern-day problems (she has over 1,000 advice books in her library!). The books span a period from 1822 to 1978 and cover the age-old topics of dating, love, living together, marriage, beauty, puberty, and sex. While the language is often quaint and curious, the insights provided remain remarkably fresh. This book takes an affectionate look at how advice throughout the ages is still meaningful today. Combining the best of Miss Abigail's question and answer columns, each chapter features sidebars containing freestanding tips or selections related to chapter topics. Additional material includes short features on selected authors, silly book titles, and entertaining flap copy or jacket material. Retro book covers, advertisements, "chick-lit"-style line drawings, and other amusing, related ephemera serve to illustrate the book.
About the Author
Haunted by a charm-school class in junior high school and the inability to do her own hair or apply makeup, Abigail Grotke has been collecting outdated advice books for almost twenty years. She has an extensive background in print and digital publications and a keen interest in historical materials and pop culture, not to mention a love of crawling around dirty used bookstores to find the perfect book to add to her collection. Grotke has combined selections of advice from her books with witty commentary to create her award-winning Web site, Miss Abigail's Time Warp Advice, and a high-profile weekly column for the London Times Magazine from September 2001 through February 2003. During the day, Grotke is a digital projects coordinator at the Library of Congress, and has previously worked in the publications office of the Smithsonian American Art Museum. In 2004, she was named one of 55 Library Journal "Movers and Shakers," an annual feature which sets out to identify "emerging leaders in the Library world." She lives in an old house in Takoma Park, Maryland, with her terrier mutts, Frieda and Felix, and amazing collection of ice crushers.
or
Not Currently Available for Direct Purchase