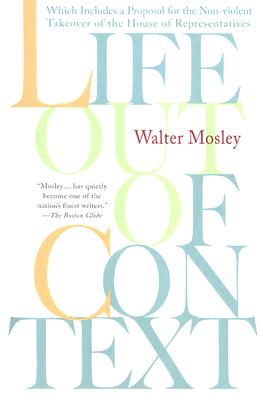 Life Out of Context
Paperback

* Individual store prices may vary.
Description
Life Out of Context begins as a powerful, brooding and humorously honest examination of Mosley's own sense of cultural dislocation as an African American writer. But due to a series of serendipitous events — the screening of a documentary about Africa, an encounter with Harry Belafonte and Hugh Masakela — Mosley, rather like the protagonist in one of his mystery novels, has a series of epiphanies on the role of a black intellectual in America. He asks: What can we do to fight injustice, poverty, exploitation, and racism? What is globalization doing to us? Through these late night meditations, Mosley attempts to transcend his earlier feelings of living a "life out of context" and seeks instead to find a political context. He ends with a call to arms, proposing that African Americans have to break their historic ties with the Democrat Party, and form a party of their own
Nation Books, 9781560258469, 112pp.
Publication Date: November 1, 2005
About the Author
Walter Mosley is the author of 19 books which, over the course of the fourteen years of his career, span two series of mysteries, literary fiction, science fiction, and political philosophy. He has been the recipient of many awards and honors unusual for a writer of fiction including a Grammy Award for his liner notes accompanying "Richard Pryor...And It's Deep Too!: The Complete Warner Bros. Recordings (1968-1992)" and the Sundance Institute Risk-Takers Award for 2004. He will be given an honorary doctorate this year by City College of New York. He was the founder of the first-ever degree program to help train publishing professionals and encourage publishing houses to hire more candidates of color at City College. In addition, PEN West will honor him with a Lifetime Achievement Award in 2005. He has also been honored by TransAfrica Forum, was a recipient of the prestigious Anisfield Wolf Award, and served as editor for The Best American Short Stories of 2003.
or
Not Currently Available for Direct Purchase