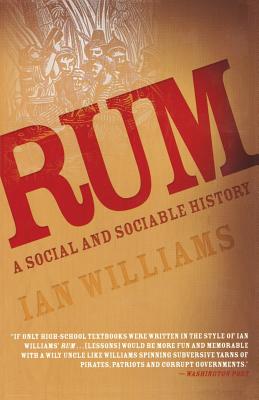 Rum
A Social and Sociable History of the Real Spirit of 1776
Paperback

* Individual store prices may vary.
Description
Rum arguably shaped the modern world. It was to the eighteenth century what oil is to the present, but its significance has been diminished by a misguided sense of old-fashioned morality dating back to Prohibition. In fact, Rum shows that even the Puritans took a shot now and then. Rum, too, was one of the major engines of the American Revolution, a fact often missing from histories of the era. Ian Williams's book -- as biting and multilayered as the drink itself -- triumphantly restores rum's rightful place in history, taking us across space and time, from the slave plantations of seventeenth-century Barbados (the undisputed birthplace of rum) through Puritan and revolutionary New England, to voodoo rites in modern Haiti, where to mix rum with Coke risks invoking the wrath of the gods. He also depicts the showdown between the Bacardi family and Fidel Castro over the control of the lucrative rights to the Havana Club label. Telling photographs are also featured in this barnstorming history of the real "Spirit of 1776."
Bold Type Books, 9781560258919, 368pp.
Publication Date: August 18, 2006
About the Author
Ian Williams is the Nation magazine's UN Correspondent and the author of Deserter: George Bush's War on Military Families, Veterans and His Own Past. Since becoming interested in rum he has amassed a collection of "rumabilia;" books, pamphlets, prints, advertising ephemera, bottles and decanters, hundreds of rum labels from all over the world, and not least, a growing collection of rum, from Croatia to Thailand, from Kazakhstan to India, from Hawaii to Argentina. Williams lives in New York City.