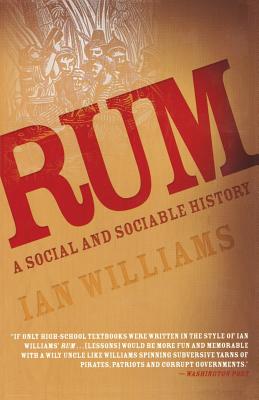 Rum (Paperback)
A Social and Sociable History of the Real Spirit of 1776
Bold Type Books, 9781560258919, 368pp.
Publication Date: August 18, 2006
* Individual store prices may vary.
Description
Ian Williams describes in captivating detail how Rum and the molasses that it was made from was to the 18th century what oil is today. Rum was used by the colonists to clear Native American tribes and to buy slaves. To make it, they regularly traded with the enemy French during the Seven Years' War, angering their British masters and setting themselves on the road to Revolution. The regular flow of rum was essential to keeping both armies in the field since soldiers relied on rum to keep up their fighting spirits. Even though the Puritans themselves were fond of rum in quantities that would appall modern day doctors, temperance and Prohibition have obscured the historical role of the "Global Spirit with its warm heart in the Caribbean." Ian Williams' book triumphantly restores rum's rightful place in history, taking us across space and time, from its origins in the plantations of Barbados through Puritan and Revolutionary New England, to voodoo rites in modern Haiti, where to mix rum with Coke risks invoking the wrath of the god, and across the Florida straits where Fidel and the Bacardi family are still fighting over the rights for the ingredients of Cuba Libre.
About the Author
Ian Williams is The Nation magazine's UN Correspondent and the author of DESERTER: George Bush's War on Military Families, Veterans and His Own Past. Since becoming interested in rum he has amassed a collection of "rumabilia;" books, pamphlets, prints, advertising ephemera, bottles and decanters, hundreds of rum labels from all over the world, and not least, a growing collection of rum, from Croatia to Thailand, from Kazakhstan to India, from Hawaii to Argentina. Williams lives in New York City.