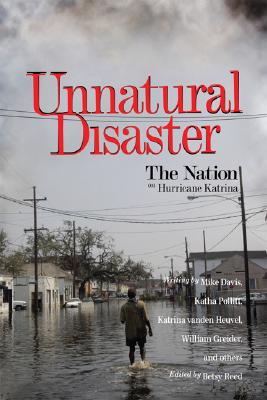 Unnatural Disaster: The Nation on Hurricane Katrina (Paperback)
The Nation on Hurricane Katrina
Nation Books, 9781560259374, 320pp.
Publication Date: September 1, 2006
* Individual store prices may vary.
or
Not Currently Available for Direct Purchase
Description
Hurricane Katrina was a natural disaster of staggering proportions. The vicious winds and surging seas that lashed the Gulf Coast on August 31, 2005, paralyzed New Orleans and left a scene of utter devastation in their wake.

But when the winds and waves abated, they revealed an unnatural disaster — a social catastrophe directly caused by the government's callous indifference to the needs of the region's most vulnerable residents. This pattern of near-criminal government neglect did not begin with its response to Katrina, but the hurricane did lay bare its extraordinary depth and horrifying consequences, exposing how race and class can spell life or death in contemporary America.

In the months that followed, The Nation published a series of articles and editorials documenting the gross negligence of the Bush administration and the heroic effort of community organizers and ordinary citizens to put their city back together again, as well as the attempts of political progressives to push for a 'New Deal.'

Unnatural Disaster includes riveting on-the-scene reporting, columns, blogs, essays and articles from Mike Davis and Anthony Fontenot, Naomi Klein, Patricia Williams, Jeremy Scahill, Eric Alterman, Adolph Reed, Jr., Eric Foner, Curtis Wilkie, Billy Sothern, among many others.
About the Author
Edited by Betsy ReedBetsy Reed is the executive editor of The Nation, where she has worked since 1998. She edited the anthology Nothing Sacred: Women Respond to Religious Fundamentalism and Terror, published by Nation Books in 2003; and co-edited the anthology Homo Economics: Capitalism, Community and Lesbian & Gay Life, published by Routledge in 1997. She edits articles and speaks frequently on such subjects as women, labor, community organizing, education, civil rights and domestic politics. She lives in Brooklyn, New York.
Advertisement