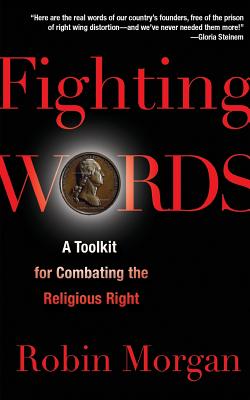 Fighting Words (Paperback)
A Toolkit for Combating the Religious Right
Bold Type Books, 9781560259480, 120pp.
Publication Date: August 25, 2006
* Individual store prices may vary.
Description
The religious right is gaining enormous power in the United States, thanks to a well-organized, media-savvy movement with powerful friends in high places. Yet many Americans -- both observant and secular -- are alarmed by this trend, especially by the religious right's attempts to erase the boundary between church and state and re-make the U.S. into a Christian nation. But most Americans lack the tools for arguing with the religious right, especially when fundamentalist conservatives claim their tradition started with the Framers of The Constitution. Fighting Words is a tool-kit for arguing, especially for those of us who haven't read the founding documents of this nation since grade school. Robin Morgan has assembled a lively, accessible, eye-opening primer and reference tool, a "verbal karate" guide, revealing what the Framers and many other leading Americans really believed -- in their own words -- rescuing the Founders from images of dusty, pompous old men in powdered wigs, and resurrecting them as the revolutionaries they truly were: a hodgepodge of freethinkers, Deists, agnostics, Christians, atheists, and Freemasons -- and they were radicals as well.
About the Author
Robin Morgan is an award-winning poet, novelist, political theorist, feminist activist, journalist, editor, and bestselling author. She has published twenty books, including the now-classic anthologies Sisterhood Is Powerful (Random House) and Sisterhood Is Global (Doubleday, 1984; updated edition, The Feminist Press, 1996); with the recent Sisterhood Is Forever: The Women's Anthology for A New Millennium (Washington Square Press).

A founder/leader of contemporary US feminism, she has also been a leader in the international women's movement for twenty-five years. In 1990, as Ms. Editor-in-Chief, she relaunched the magazine as an international, award-winning, ad-free bimonthly, resigning in late 1993 to become Consulting Global Editor. A recipient of the National Endowment for the Arts Prize (Poetry), and numerous other honors, she lives in New York City (www.robinmorgan.us).