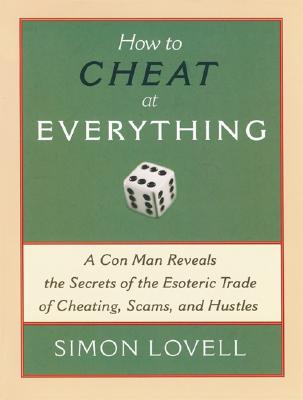 How to Cheat at Everything (Paperback)
A Con Man Reveals the Secrets of the Esoteric Trade of Cheating, Scams, and Hustles
Running Press Adult, 9781560259732, 456pp.
Publication Date: January 1, 2007
* Individual store prices may vary.
Description
Gambling is more popular than ever, with multi-million dollar poker tournaments on television, gambling themed movies like Rounders gaining in popularity, and casinos opening in just about every state of the U.S. How to Cheat at Everything is a roller-coaster ride through bar bets, street hustles, carnivals, Internet fraud, big and small cons, card and dice games and more. You'll even find the exact frauds that the NYPD regard as the most common and dangerous today, and learn top tips on how to avoid each one. This inside information comes from Lovell's lifetime of experience in the field, along with additional information from both sides of the law. Not just a "here's how the con works" book; this guides you through the set up, the talk, the sell, everything about the con, and how you can be suckered into one. If you think that you can't be conned; then you are already halfway to being so! There is no preaching here, just a fun ripping ride through a world so few know about. You'll meet wild, eccentric and larcenous characters and you'll learn how they work their money-making deeds, all without having to risk a penny of your own money.
About the Author
Simon Lovell is a magician, former con man, and professional card cheat. Currently he stars in the one-man Off-Broadway show Strange and Unusual Hobbies. He is the author of seventeen books, has produced 14 videos and 5 DVDs on the subject of cheating, and has lectured to both police and casino operatives on the subject of cheating. For more information, visit his web site, www.simonlovell.com.