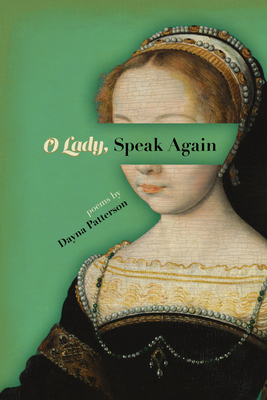 O Lady, Speak Again
Paperback

* Individual store prices may vary.
Description
The witchy, spell-soaked poems in Patterson's second collection explore female characters from Shakespeare's plays—with a feminist twist. The collection grapples with women's roles in Shakespeare and in Mormon culture, both heavily influenced by patriarchal structures that often silence marginalized voices. If you're not well-versed in Shakespeare or Mormonism, don't worry—these poems will delight and enchant you with their own deep magic, their tremendous power, their singing.

In these pages you'll meet Cordelia, third wife of polygamous Lear. You'll meet Miranda, sailing away from her father and his faith. You'll encounter Ophelia, who enters an amphibious torpor when buried, and is reborn as forest ecologist, far from her father's ghost. Lady Macbeth and the weird sisters get a retrial, and Juliet finds her way to a different ending. Shadowy goddesses like Hecate, mother of witches, are invoked and act within these pages. Rosalind from As You Like It is given the final word. These poems delve into faith crisis, queerness, abandonment, transgressive power, rebirth, and dream. Prepare to be entranced.
Praise For O Lady, Speak Again…
"Truly a triumph, this collection is a soaring, seething, singing achievement of poetic excellence. In, O Lady, Speak Again, Dayna Patterson gives us meticulously crafted poems without sacrificing a single breath of emotional dynamism. In the voices of Shakespeare's lady characters, Patterson deftly evokes the depth and complexity of responses to the burdens and griefs of being a woman held in the confines of a patriarchal society, governed by an all-male religious hierarchy. These poems are both haunting and soothing in their questions and their graceful, ladylike rage." —Rena Priest, Washington State Poet Laureate (2021–2023) 

"What do you get when you blend Shakespeare's canon of female characters with an already-­steaming brew of the personal and culturalisms of Mormondom? O Lady, Speak Again is a love song to feminine power and artistry—power both practical and metaphysical, emergent and handed-down. Patterson repurposes with such insight that it feels like sorcery: a sprinkle of weird enlivens the familiar with mystery, and a dash of familiar grants us access to the strange." —Nano Taggart, editor, Sugar House Review

"O Lady, Speak Again does its work in a glory, a tumble, then a flood, of characters, versions, and voicings. The beginning poem 'Dramatis Personae,' which limns the territory and the method of the collection, shows us that the urgent appeal of the title—that the Lady (mother, goddess, enchantress, witch) must speak from the parched silence to which she has been consigned—requires an upending to be fulfilled: that the world, to be made fecund, musical, brilliant again, must receive 'a blue deluge' of the Lady's voice. The speakers of the poems inhabit gorgeous languages and a multitude of stories, many drawn from Shakespeare; Dayna Patterson embroiders the lacunae in her sources and insists on retellings and revisions in this miracle of a book. In a way, like Prospero in The Tempest, Patterson orchestrates madness, terror, and catastrophic loss, into reconciliation, claiming that power as her own deep, decidedly female, and restorative, magic." —Lisa Orme Bickmore, Utah Poet Laureate
Signature Books, 9781560854647, 124pp.
Publication Date: February 13, 2023
About the Author
Dayna Patterson is a photographer, textile artist, and irreverent bardophile. She's the author of Titania in Yellow (Porkbelly Press, 2019) and If Mother Braids a Waterfall (Signature Books, 2020). Honors include the Association for Mormon Letters Poetry Award and the 2019 #DignityNotDetention Poetry Prize judged by Ilya Kaminsky. Her creative work has appeared in EcoTheo, Kenyon Review, and Poetry. She's the founding editor (now emerita) of Psaltery & Lyre and a co-editor of Dove Song: Heavenly Mother in Mormon Poetry. She lives with her husband and two daughters in a little patch of forest in the Pacific Northwest.