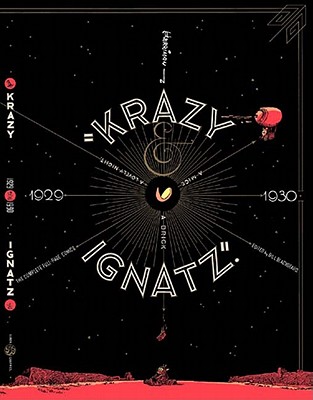 Krazy & Ignatz 1929-1930 (Paperback)
"A Mice, A Brick, A Lovely Night"
Fantagraphics, 9781560975298, 120pp.
Publication Date: July 17, 2003
Other Editions of This Title:
Paperback (1/17/2005)
* Individual store prices may vary.
Description
This volume finds Herriman flowering into the peak of his inventiveness, liberated at last from the constraints of his syndicate's chosen format. Gorgeous cartoons are augmented by rare bonus materials. 
This volume is  one in a long-term plan to chronologically reprint the entirety of the 28-year run of
Krazy Kat
's breathtaking Sunday page, most of which has not seen print since originally running in newspapers 75 years ago. Each volume is painstakingly edited by the San Francisco Cartoon Art Museum's Bill Blackbeard, the world's foremost authority on early 20th Century American comic strips, and designed by
Jimmy Corrigan
author Chris Ware. In addition to the 104 full-page black-and-white Sunday strips from 1929 and 1930 (Herriman did not use color until 1935), the book includes an introduction by Blackbeard and reproductions of rare Herriman ephemera from Ware's own extensive collection, as well as annotations and other notes by Ware and Blackbeard.
Of special note to collectors, this is the period when Herriman was again liberated from the "grid" constraints of the mid-'20s and was able to compose his pages far more creatively, resulting in richer, more complex, more eye-pleasing compositions.
Krazy Kat
is a love story, focusing on the relationships of its three main characters. Krazy Kat adored Ignatz Mouse. Ignatz Mouse just tolerated Krazy Kat, except for recurrent onsets of targeting tumescence, which found expression in the fast delivery of bricks to Krazy's cranium. Offisa Pup loved Krazy and sought to protect "her" (Herriman always maintained that Krazy was gender-less) by throwing Ignatz in jail. Each of the characters was ignorant of the others' true motivations, and this simple structure allowed Herriman to build entire worlds of meaning into the actions, building thematic depth and sweeping his readers up by the looping verbal rhythms of Krazy & Co.'s unique dialogue.
About the Author
George Herriman (1880-1944), the creator of Krazy Kat, was born in New Orleans and lived most of his life in Los Angeles, California. He is considered by many to be the greatest strip cartoonist of all time.

Bill Blackbeard, the founder-director of the San Francisco Cartoon Art Museum, is the world's foremost authority on early 20th Century American comic strips. As a freelance writer, Blackbeard wrote, edited or contributed to more than 200 books on cartoons and comic strips, including The Smithsonian Collection of Newspaper Comics, 100 Years of Comic Strips, and the Krazy & Ignatz series.