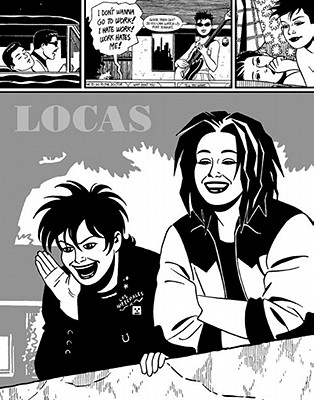 Locas: The Maggie and Hopey Stories (Hardcover)
The Maggie and Hopey Stories
Fantagraphics Books, 9781560976110, 704pp.
Publication Date: October 1, 2004
* Individual store prices may vary.
or
Not Currently Available for Direct Purchase
Description
Maggie's story begins in the early-1980s Southern California rock scene, when it was shifting from the excesses of the 1970s to the gritty basics of punk and new wave. Hardcore punk rock came to the fore, and the teenaged Maggie finds herself drawn to the anarchy, energy and diversity of the scene, which in Jaime's hands becomes a very real, habitable place populated with authentic human beings rather than stereotypes. She quickly befriends Hopey Glass, a feisty anti-authoritarian punkette who quickly becomes Maggie's on-again, off-again lover and a constant presence in her life throughout the book As theNew York Times Book Review has described it, "These stories have all the visual smarts of film and the narrative smarts of literature....Hernandez specializes in psychological detail; we see both text and subtext immediately ....What better than to open a book that shows there is more going on than we dream of in our workaday philosophies?
Advertisement