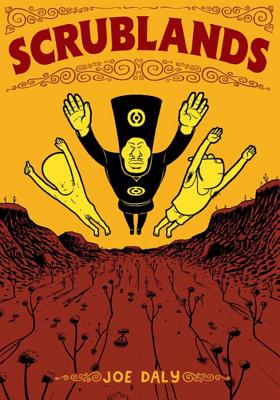 Scrublands (Paperback)
Fantagraphics Books, 9781560977445, 126pp.
Publication Date: June 1, 2006
* Individual store prices may vary.
Description

Daly's earlier work has been described as "Tintin meets the Freak Brothers in the Cape of Good Dope." Indeed, Daly's cartoons, offbeat, hallucinatory, and often hilarious, seems descended fromand in some cases an amalgamation ofthe substance-induced work of Robert Crumb, Gilbert Shelton, Victor Moscoso, and S. Clay Wilson, filtered through the artist's own unique vision and sense of the absurd.

Daly's approach swings from introverted dreamlike stream-of-consciousness to over-the-top postmodern vaudevillian. "Prebaby," the centerpiece of this collection, delves into creation, survival, random occurrences and the micro/macrocosm. Told entirely without dialogue, it's almost musical in its execution. It unfolds like the storyboard to a wonky existential animated cartoon, and it's no surprise that Daly studied animation for two years at Cape Town's City Varsity College. In contrast, Daly's "Kobosh and Steve" stories come across as a series of routines by a demented Abbott and Costello. Kobosh even visits a down-on-his-luck Bruce Springsteen in one story, while another strip features a pair of micro-fauna questioning their existence as they feed off the rock legend's scalp.

Stories alternate between full-color and black-and-white and range from representational Jim Jarmusch-like scenarios to wild visual excursions, albeit linear ones. We are pleased to introduce a unique new voice to the world of cartooning and predict Daly's mix of deadpan absurdity and surreal imagery will be greeted with enthusiasm by readers and critics alike.
or
Not Currently Available for Direct Purchase