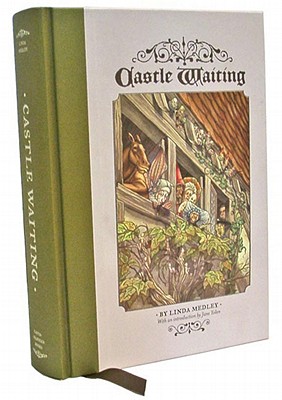 Castle Waiting
Hardcover

* Individual store prices may vary.
Description
The multiple Harvey and Eisner award-winning fantasy is now collected in one volume! A fable for modern times, Castle Waiting is a fairy tale that's not about rescuing the princess, saving the kingdom, or fighting the ultimate war between Good and Evil — but about being a hero in your own home.
The 456-page
Castle Waiting
graphic novel tells the story of an isolated, abandoned castle, and the eccentric inhabitants who bring it back to life. A fable for modern times,
Castle Waiting
is a fairy tale that's not about rescuing the princess, saving the kingdom, or fighting the ultimate war between Good and Evil — but about being a hero in your own home. The opening story, "The Brambly Hedge," tells the origin of the castle itself, which is abandoned by its princess in a comic twist on "Sleeping Beauty" when she rides off into the sunset with her Prince Charming. The castle becomes a refuge for misfits, outcasts, and others seeking sanctuary, playing host to a lively and colorful cast of characters that inhabits the subsequent stories, including a talking anthropomorphic horse, a mysteriously pregnant Lady on the run, and a bearded nun.
For the first time, Fantagraphics'
Castle Waiting
collects the first volume of the Harvey and Eisner Award-winning* comic book series into one hearty hardcover. Linda Medley lavishly illustrates
Castle Waiting
in a classic visual style reminiscent of Arthur Rackham and William Heath Robinson. Blending elements from a variety of sources—fairy tales, folklore, nursery rhymes—Medley tells the story of the everyday lives of fantastic characters with humor, intelligence, and insight into human nature.
Castle Waiting
can be read on multiple levels and can be enjoyed by readers of all ages.
*Awards:


2007 Eisner Award nominee: Best Graphic Album — Reprint, Best Publication Design (Adam Grano)


2007 Harvey Award nominee: Best Graphic Album — Previously Published


Official Selection, 2008 Festival International de la Bande Desinée de Angouleme (French edition)


"20 Essential Albums for Summer 2008," l'Association des Critiques de Bandes Dessinées (French edition)


Finalist, Prix de la Critique 2008, l'Association des Critiques de Bandes Dessinées (French edition)


Praise For Castle Waiting…
Castle Waiting, a brutally funny book with a giant heart, has a new spin on fairy tales with a feminist bent that will draw you in and keep you reading from page one.... Medley's world is expertly crafted and completely believable, while her black and white artwork is clean and highly detailed with an emphasis on character design and acting.

— Kelly Thompson - LitReactor

[A] beautifully designed volume... 457 pages of glorious black and white illustration... The artwork is absolutely charming, hearkening back to older pen-and-ink styles, but with a cartoony touch to it. The characters are individually realized, both by the art and the writing... This would be a good comic book to give to younger people, perhaps especially if you know a girl who likes comics but is turned off by more mainstream fare... The twining of the fairy tales with the story is deftly and delightfully done. I love this series.
— Little Bits of Everything

[A] massive and stunning work of art... The tales inside Castle Waiting are extremely female friendly and are something I'd love to see offered up to every little boy and girl as the required alternative to our more standard 'happily ever after' tales.

— Kelly Thompson - Comic Book Resources

It's a fun read. It's well and clearly written. The art is top-notch... This one comes recommended for those looking to get into comics and not knowing where to start, or those who enjoy comics from time to time but don't want to invest in some huge story.
— Emily Dresner - /project/multiplexer

The stories are captivating and exciting and surprisingly deep. She is never heavy-handed about it, but Medley explores some weighty topics, including domestic violence, religious conversion, and sacrifice. ... I laughed frequently as I read the book, and cried once — not because I was sad, but because I was moved by the story.
— Jessica Zellers - Blogging for a Good Book (Williamsburg Public Library)

A charming, thoughtful and heart-warming twist on traditional fairy tales that will appeal to both children and adults.
— The Patriot News

Castle Waiting is absolutely fantastic… The artwork is wonderful. Simple, yet detailed, black line drawings convey an incredible amount of emotion. Linda Medley is a master of her art.

— Experiments in Reading Blog
Fantagraphics, 9781560977476, 456pp.
Publication Date: June 17, 2006
About the Author
Linda Medley lives in Portland, OR, where she is currently working on the Castle Waiting series.
or
Not Currently Available for Direct Purchase