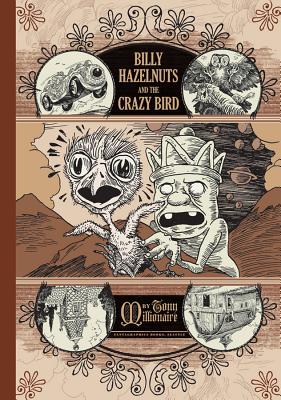 Billy Hazelnuts and the Crazy Bird (Hardcover)
Fantagraphics, 9781560979173, 104pp.
Publication Date: July 6, 2010
* Individual store prices may vary.
Description
Take a trip into the deep, deep woods with this original all-ages graphic novel.
Billy Hazelnuts is back for the first time since his acclaimed 2006 Eisner Award-winning debut. Life has settled back to normal in the old house. Becky and her mom are getting used to having Billy around, as he performs various household chores, utilizing his amazing strength. Nothing could be better, aside from a jumpy relationship with the cat. until one day Billy hears screeching in the back yard and runs out to find a very large owl attacking his housemate. "I hate that cat, but it's
our cat
!" yells Billy, and chases the owl off.
Billy soon discovers that the owl he has just scared off has left an egg in his nest. When the egg hatches, it's up to Billy to reunite the baby owl with his mother, and the two head off into the deep, deep woods in search of her. The resulting adventure is a crazy potion of all-ages fun, humor, thrills and chills like only Tony Millionaire is capable of.
About the Author
Tony Millionaire lives in Pasadena, CA with his wife, the actress Becky Thyre, and their two daughters. He creates the award-winning weekly syndicated comic strip Maakies. His books include Billy Hazelnuts, Billy Hazelnuts and the Crazy Bird, Der Struwwelmaakies, Drinky Crow's Maakies Treasury, Maakies with the Wrinkled Knees, Mighty Mite the Ear Mite, Premillennial Maakies, Little Maakies on the Prairie, The House at Maakies Corner, When We Were Very Maakies, 500 Portraits, and the Sock Monkey series of comics and storybooks.
Praise For Billy Hazelnuts and the Crazy Bird…
In this follow-up to Billy Hazelnuts, Millionaire carries on the sublime childlike flair that is a far cry from the sweet sense of innocence often ascribed to wee ones. ... No one rides the edge between charming and demented quite like Maakies cartoonist Millionaire, and he's in hilariously fine form here.


The first Billy was about his origins; Billy Hazelnuts and the Crazy Bird is about the responsibilities of parenthood, and how they don't necessarily sync up with maturity.


Millionaire really does channel the cartoonists of the early 20th century, while still giving the work a quality that's somewhat reminiscent of '70s underground comics — and it's kid-friendly to boot! Good fun with good energy.
— John Seven

The release of a new Tony Millionaire stand-alone book is an overall world good.
— Tom Spurgeon

The mind of Tony Millionaire is a funny, wacky and kinda disturbing place, but man do I love it! ... Billy Hazelnuts and the Crazy Bird is an incredible book for all ages. There is nothing else like it being published today and I think that is why it's so special!

or
Not Currently Available for Direct Purchase