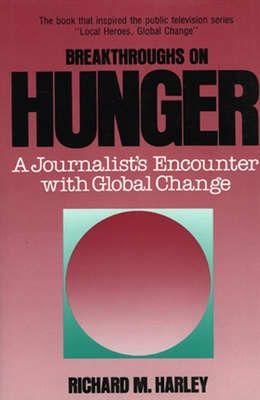 Breakthroughs on Hunger
A Journalist's Encounter with Global Change
Hardcover

* Individual store prices may vary.
Description
There is a side to world hunger that few people see. Though media coverage focuses on the bolder headlines of food shortage, poverty, and failure in the developing world, there has also occurred a quiet revolution of positive change. The advances have come on many fronts, in many nations -- the fruit of decades of experimentation and trial and error. For all their quietness, these advances have enormous implications for the world's ability to feed itself in the decades ahead, and for those in the West who would help.

Award-winning journalist Richard M. Harley has spent the better part of a decade tracking these hopeful trends. He has traveled around the world to be with those involved in the process of change, to see how the process of change looks from the inside. Harley encounters striking diversity in the causes of poverty and their consequences. But he also finds unexpected commonality among the innovators who are making such a difference -- a special determination and talent for pushing back the forces of greed and for spreading economic opportunity among people who have traditionally been left out.

The concerned public, as well as students and specialists in international development, will find Breakthroughs on Hunger the human face of issues that too often remain abstract and remote. The concept and journalistic immediacy are the inspiration behind production of the nation all broadcast public television series "Local Heroes, Global Change."
Smithsonian Institution Scholarly Press, 9781560980018, 169pp.
Publication Date: January 17, 1991
About the Author
Richard M. Harley received his master's degree from Oxford University, where he studied as a Rhodes Scholar. He won awards for his writing about international development issues for the Christian Science Monitor. He currently serves on the faculty of the Harvard Institute for International Development and directs the Boston-based television company World Development Productions, Inc.
or
Not Currently Available for Direct Purchase