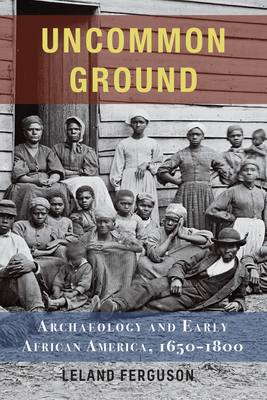 Uncommon Ground: Uncommon Ground (Paperback)
Uncommon Ground
Smithsonian Institution Press, 9781560980599, 232pp.
Publication Date: December 31, 2004
Description
The uncommon ground in the title of Ferguson's highly provocative book is that which yields up evidence of African Americans during the pre-Revolutionary period. The discussion of archeological findings that elucidate how these enslaved people actually lived is so surprisingly engaging and accessible that at times this reads like a detective story, with one tantalizing clue leading the author to yet another. Recovered potsherds tell of economic interrelations between plantation slaves and Native Americans and of the too-little-recognized common thread between the extermination of Native Americans and racism against blacks. Toys and house sites allow examination of daily life. Utensils dug from the ground illuminate the slaves' diet and foodways. Ritual objects open up a discussion of African slave religion. Ferguson also tracks the differences in slave lifestyles between coastal South Carolina and tidewater Virginia. In the end, he concludes that, although the slave-owning whites may have held political and coercive power, they depended for survival on the practical knowledge and skills of their African American slaves. Ferguson proves his case that archeological research helps us envision the contrast between the world the slaves built and the European/American culture that they rejected.
About the Author
Leland Ferguson is Distinguished Professor Emeritus of Anthropology at the University of South Carolina, Columbia.
Praise For Uncommon Ground: Uncommon Ground…
"The uncommon ground in the title of Ferguson's highly provocative book is that which yields up evidence of African Americans during the Pre-Revolutionary period. The discussion of archaelogocial findings that elucidate how these enslaved people actually lived is so surprisingly engaging and accessible that at times this reads like a detective story, with one tantalizing clue leading the author to yet another."—Publishers Weekly

"Fascinating stuff . . . highly recommended."—Library Journal

"An eloquent book that is both moving and scholarly."—American Anthropologist

"A major analytical achievement. Through its bold proposition that slaves enjoyed 'ideological power,' [Uncommon Ground] offers a new and different model for analyzing plantation social relations."—American Historical Review
Advertisement