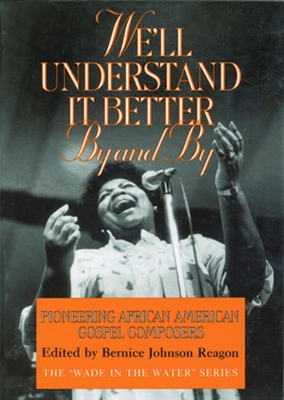 We'll Understand It Better By and By (Paperback)
Pioneering African American Gospel Composers (The "Wade in the Water" Series)
Smithsonian Institution Scholarly Press, 9781560981671, 432pp.
Publication Date: December 17, 1992
* Individual store prices may vary.
Description
From the congregations of small African churches in Memphis, Philadelphia, and Chicago to the nationwide fans of the Golden Gate Quartet, Mahalia Jackson, Sam Cooke, Edwin Hawkins and others, gospel music has profoundly influenced Americans. This book brings together some of the best pioneering composers and shows the impact of their work on music and culture in America and abroad.
About the Author
Bernice Johnson Reagon is Distinguished Professor of History at American University. The author of many works, including Black People and Their Culture, she selected and annotated the landmark three-record album collection Voices of the Civil Rights Movement and was narrator and conceptual producer of "Wade in the Water: African American Sacred Music Traditions," a joint project of the Smithsonian Institution and National Public Radio. A 1989 recipient of the MacArthur Fellowship, Reagon is the founder and artistic director of the a cappella quintet Sweet Honey in the Rock.
Praise For We'll Understand It Better By and By: Pioneering African American Gospel Composers (The "Wade in the Water" Series)…
A curator at the Smithsonian's National Museum of American History and a noted gospel singer herself, Reagon presents a superb collection of essays--by academics who are also gospel performers or record producers--that focus on major figures in black gospel music: Charles A. Tindley, Lucie Campbell Williams, Thomas A. Dorsey, William H. Brewster Sr., Roberta Martin and Kenneth Morris. Highlights here are oral histories by Brewster and Morris, from interviews conducted by Reagon; a roundtable discussion by several former members of the Roberta Martin Singers; and Michael Harris's explication of Dorsey's life as a complex dialectic of the sacred and secular traditions of African-American culture. There is a no less profound tension between the messianic fervor of black Baptist and Pentecostal ritual practice, convincingly depicted in essays by Horace Clarence Boyer and Rev. Charles Walker, and an explicitly social gospel, as evidenced in Reagon's essay on Tindley. Finally, the dictates of the marketplace could not be avoided by even the most devoutly religious gospel performer, as Kenneth Morris, a music publisher and composer, reminds Reagon in an interview. Boyer's essays on each of the six composers are elegant combinations of biography and musical analysis, although some of the latter may be beyond the comprehension of non-musicians. Illustrations, bibliography and discography. (from Publishers Weekly; Copyright 1993 Reed Business Information, Inc. --This text refers to an out of print or unavailable edition of this title.)

This wonderful volume on the evolution of African-American gospel music and its influence on worship and contemporary music has something for everyone. An overview and introductory chapter define components of the genre. Individual chapters on six greats who pioneered and developed the musical tradition provide information on their philosophy and attitudes. Analyses and 49 complete piano and vocal scores are included. Most delightful of all are the accounts resulting from interviews with the featured composers, family members, and performers that present a personalized, comfortable step into their experiences and thoughts. Although a hefty book that will undoubtedly challenge competent readers if read straight through, its organization, various components, and extensive index allow flexible use for a variety of interests. (from School Library Journal YA; Jessica Lahr, Edison High School, Fairfax County, VA; Copyright 1993 Reed Business Information, Inc. --This text refers to an out of print or unavailable edition of this title.)

According to this volume, gospel is perhaps the sacred music phenomenon of this century. It has crossed over into the popular music spectrum and has contributed to a regard for African American music "that drives mainstream popular culture worldwide." The lives and works of six "pioneers" are analyzed here by distinguished contributors, who include Thomas Andrew Dorsey, William Brewster Sr., Roberta Martin, Charles Albert Tindley, and Kenneth Morris. Many famous songs are reproduced, and the overview section is filled with excellent general information about the history and recording of the gospel sound. This intellectual presentation is recommended for collections serving musicians and educators. (Index not seen.) (from Library Journal; Ina M. Wise, Daley Community Coll. Lib., Chicago; Copyright 1993 Reed Business Information, Inc. --This text refers to an out of print or unavailable edition of this title.)

Reagon . . . points out that the music of black Americans is at the base of the majority of popular music not only in this country, but in the world. . . . We'll Understand It Better By and By reaches back to the roots of gospel music and its genesis among African-Americans. (Philadelphia Inquirer)

This large, handsomely illustrated volume . . . explores the lives, times, and accomplishments of six of the most influential composers of gospel music: Charles A. Tindley, Lucie E. Campbell Williams, Thomas A. Dorsey, William H. Brewster, Sr., Roberta Martin, and Kenneth Morris. (American Historical Review)

With fascinating narratives, stories, and groundbreaking research, this momentous work is a landmark in the scholarship of gospel music. (The Griot)

With its useful bibliography, discography, interviews, and essays, this collection explors the 'rough side of the mountain' that these important but overlooked composers have traversed and vividly evoked throughout this century (Journal of American History)

A splendidly comprehensive and invaluable history of one of our most rousing and treasured forms of art and worship. . . . Reagon and her contributors explore every aspect of gospel's history, spiritual significance, and influence on secular music. (Booklist)

By eloquently and forcefully making a case for a spiritual core within African American gospel music, Reagon has paved the way for similar approaches to the investigation of appropriate genres in Western music. (American Music)
or
Not Currently Available for Direct Purchase