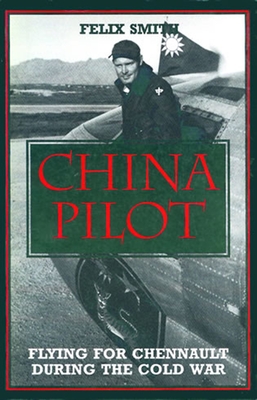 China Pilot (Paperback)
Flying for Chennault During the Cold War
Smithsonian Institution Scholarly Press, 9781560983989, 336pp.
Publication Date: August 17, 2000
* Individual store prices may vary.
Description
A pilot for the China-based airline reputed to be the most shot at in the world, Felix Smith recounts in vivid detail his experiences ferrying troops and equipment for the Nationalists during China's civil war; providing medicine and supplies to war-torn regions; and flying under CIA contract during the French war in Indochina, the Korean War, America's secret war in Laos, and the Vietnam War. China Pilot provides a rare view of the Cold War in Asia, documenting not only the hair-raising adventures of Civil Air Transport's pilots but also those of the men and women behind the scenes.
About the Author
During his thirty-year career in Asia, Felix Smith flew ten different types of airplanes more than eight million miles. He lives in rural Wisconsin.
Praise For China Pilot: Flying for Chennault During the Cold War…
After WWII, Claire Chennault, founder of the Flying Tigers, organized a collection of pilots into a company called Civil Air Transport (CAT), which delivered food, ammo, medical supplies and reinforcements to the Nationalists during China's 1946-1949 civil war. The author of this vigorous, anecdote-packed memoir was one of their number. Here he recalls his adventures in the wild blue yonder and some of the raffish characters he met on terra firma, many of them straight out of "Terry and the Pirates": Y.L. Yang, the Cigarette King, who helped finance the airline; Chiang Hseuh-liang, the Young Marshall, whose feud with Generalissimo Chiang Kai-shek became legendary; James "Earthquake Magoon" McGovern, the Falstaffian CAT pilot who went down in flames on a relief mission to Dienbienphu. Smith describes CAT's involvement on the margins of the wars in Korea, Laos and Vietnam and its role in establishing the Nationalists on Taiwan. He further reveals how the airline retained its private identity after becoming a major air arm of the CIA. His view of the various wars is unabashedly romantic, but the memoir as a whole is wonderfully entertaining. Illustrations. (From Publishers Weekly; Copyright 1995 Reed Business Information, Inc.)

This is one of thoe rare treats for aviation history enthusiasts: a book by a superb pilot who also happens to be a first-rate writer. (Carl Molesworth)

Better than anyone else [Felix Smith] evokes the sights, smells, and sounds of China. . . . China Pilot is a wonderful book. It belongs on the shelf of every admirer of Chennault and his unorthodox forces..... (Air & Space)
or
Not Currently Available for Direct Purchase