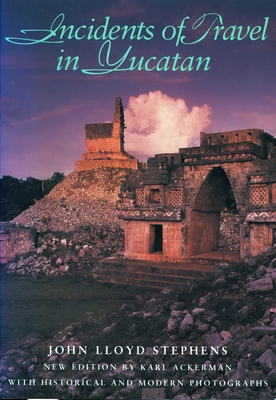 Incidents of Travel in Yucatan
Paperback

* Individual store prices may vary.
Other Editions of This Title:
Paperback (8/2/2018)
Hardcover (10/27/2022)
Paperback (10/27/2022)
Hardcover (8/2/2018)
Description
A lively, eloquent guide to the Maya ruins of Mexico's Yucatan peninsula, as entertaining today as when it was first published in 1843, Stephens' guide recounts his two trips made to the region between 1839 and 1842. It includes extensive accounts of 44 Maya sites as well as of Yucatan folkways, manners, dress, ceremonies, amusements—all of which makes this a great travel book. Now published in a single-volume edition, Incidents of Travel in Yucatan captures for the modern reader and traveler the excitement of archaeological exploration and discovery.
Praise For Incidents of Travel in Yucatan…
"Perhaps the most interesting book of travel ever published."—Edgar Allan Poe

"Through Stephens's eyes, readers see Yucatan villages of 150 years ago, when Indians used cacao beans instead of money in their marketplaces; a Catholic/indigenous hybrid funeral that seems no more barbaric than the crude medical treatments rendered by another of Stephens's travel companions, Dr. Cabot, on their Mayan guides. One of the first to acknowledge that indigenous Americans might have built the great American pyramids and temples, not Egyptians, Greeks or one of the lost tribes of Israel, Stephens voiced a rare, nonjudgmental viewpoint in a time when European cultural elitism was the unquestioned norm. Not just a curiosity for archeology buffs or cultural studies types, this is also an informative, intriguing guide for armchair travelers."—Publishers Weekly
Smithsonian Books, 9781560986515, 286pp.
Publication Date: March 17, 1996
About the Author
John Lloyd Stephens was an American explorer whose reports on long-forgotten Mayan ruins in Central America caused a resurgence of popular and scholarly interest in the ancient people.
or
Not Currently Available for Direct Purchase