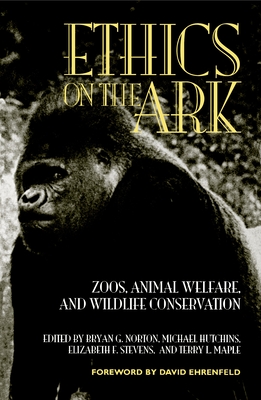 Ethics on the Ark
Zoos, Animal Welfare, and Wildlife Conservation
Paperback

* Individual store prices may vary.
Description
Ethics on the Ark presents a passionate, multivocal discussion—among zoo professionals, activists, conservation biologists, and philosophers—about the future of zoos and aquariums, the treatment of animals in captivity, and the question of whether the individual, the species, or the ecosystem is the most important focus in conservation efforts. Contributors represent all sides of the issues. Moving from the fundamental to the practical, from biodiversity to population regulation, from animal research to captive breeding, Ethics on the Ark represents an important gathering of the many fervent and contentious viewpoints shaping the wildlife conservation debate.
Praise For Ethics on the Ark: Zoos, Animal Welfare, and Wildlife Conservation…
"Splendidly thought-provoking . . . The writers for Ethics on the Ark grapple seriously and intelligently with . . . the very real conflicts that lie between those who are, to be simplistic and heuristic, for zoos and those who are against. In turn, looming over the debate, hang the huge questions of our duties to animals and of the disappearance of the natural world."—Boston Book Review

"This book is a most important contribution to animal welfare and should be read by zoo professionals, conservationists involved with captive breeding, those concerned with the ethical justifiability of zoos, animal welfarists, and anyone with an interest in the role and future of zoos."—Zoo Biology

"This collection of essays successfully integrates the voices of zoo professionals, activists, conservation biologists, and philosophers and admirably balances a wide range of pro and con perspectives on the future of captive breeding."—American Scientist

"This is the freshest look yet at the interwoven issues of animal conservation, welfare, and rights facing the North American and, indeed, global zoo community today."—Lee Durrell, Honorary Director, Jersey Wildlife Preservation Trust

"Ethics on the Ark is a wake-up call: a mandatory text for anyone concerned with environmental preservation, species diversity, and the humane treatment of individual animals in zoos."—Michael E. Kaufmann, American Humane Association
Smithsonian Books, 9781560986898, 360pp.
Publication Date: July 17, 1996
About the Author
Bryan G. Norton, professor of environmental public policy at the Georgia Institute of Technology, is the author of Toward Unity Among Environmentalists (1991) and Why Preserve Natural Variety? (1987) and editor of The Preservation of Species (1986). Michael Hutchins is director of conservation and science for the American Zoo and Aquarium Association and adjunct professor in the graduate program in sustainable development and conservation biology at the University of Maryland. Elizabeth F. Stevens is conservation and science director for Walt Disney World Animal Programs. Terry L. Maple is president and chief executive officer of Zoo Atlanta/Fulton County Zoo, Inc., and director of Zoo Atlanta.
or
Not Currently Available for Direct Purchase