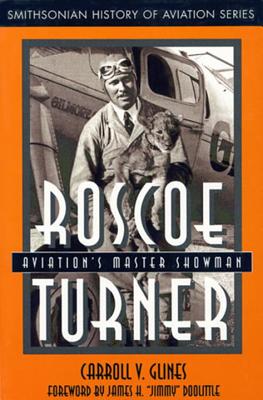 Roscoe Turner (Paperback)
Aviation's Master Showman (Smithsonian History of Aviation Series)
Smithsonian Institution Scholarly Press, 9781560987987, 340pp.
Publication Date: October 17, 1999
* Individual store prices may vary.
Description
His name was synonymous with speed, his flamboyant persona as carefully crafted as that of a Hollywood star. Born in Corinth, Mississippi, in 1895, Joe Turner was an aerial showman, an audacious risk taker, and a tireless self-promoter who focused America's attention well into the 1960s on the potential of aviation for the common good. With complete access to Turner's personal papers, photographs, and memorabilia, biographer Carroll V. Glines presents the first full account of the life of this American daredevil aviator. Turner determined as a young man to make his way in the world at the forefront of the new, exciting, and risky technologies of speed in the air. After serving as a balloon pilot during World War I, Turner found his future in the 1920s as a stuntman, creator of his own flying circus, and a pilot in Howard Hughes's World War I feature, Hell's Angels, Hollywood's most expensive movie before Gone With the Wind. Turner glided smoothly into movie society, becoming good friends with fellow pilot and actor Wallace Beery and taking movie stars Clark Gable and Fred MacMurray for their first airplane rides. Turner knew how to attract attention. To create a consistent image in the public's mind--of himself and of aviation--he always dressed in a military-type uniform of blue tunic, cavalry twill riding britches, polished boots, and a pin of diamond-studded wings. He was perhaps best known as the pilot who flew with the lion cub Gilmore as an oil company promotion. His place in flight history rests on his skill as a racing pilot--he is the only person ever to win the Thompson Trophy three times and, along with Jimmy Doolittle, to win both the Thompson and Bendix trophies. In 1934 he and his two-man crew were the only Americans to finish the grueling London-to-Melbourne race.
About the Author
A retired Air Force colonel, Carroll V. Glines is curator of the Doolittle Military Aviation Library at the University of Texas at Dallas. He is the author of thirty-one books, including Bernt Balchen: Polar Aviator (Smithsonian Institution Press, 1999).
Praise For Roscoe Turner: Aviation's Master Showman (Smithsonian History of Aviation Series)…
Of all the barnstorming pilots of the 1920s, Turner (1895-1970) was the most successful in whipping up enthusiasm for the new phenomenon of manned flight. Early on he adopted as his trademark attire a sky-blue tunic, fawn-colored jodhpurs and riding boots; in addition he wore an outsize waxed mustache and traveled about with his pet lion, Gilmore, whom he had raised from a cub. But he was flamboyant for a purpose: he was a supersalesman who peddled flying not only by barnstorming, mostly through the South in the 1920s, but also by winning national and international races in the 1930s, helping to train pilots during WWII, writing a book, editing a magazine, appearing on radio programs and playing a minor role in a movie. A bad money manager, he perpetually sought corporate sponsorship, and the combination of his piloting skills and his outgoing personality got him that support. This scrupulously researched work by retired Air Force colonel Glines resurrects an aerial showman who takes his rightful place in the pantheon of 20th-century daredevils. Photos not seen by PW. (from Publishers Weekly; Copyright 1995 Reed Business Information, Inc. --This text refers to an out of print or unavailable edition of this title.)

Roscoe Turner could only have happened in America. His career was a classic rags-to-riches epic, and one can only wonder how many youngsters were influenced by his example during the dark days of the Depression. With this book, Carroll Glines makes that sort of influence possible all over again. (Air And Space)

An incisive look at one of the most colorful figures in aviation history. . . . Roscoe Turner: Aviation's Master Showman is a great book, as multidimensional as Turner was himself. (Aviation History)

As one of America's premier aviation historians, Carroll Glines has given us a delightful and thoroughly researched biography of one of our audacious aerial risk takers. (Jacksonville Times-Union)

The 1920s and '30s were the Golden Age of aviation in this country. . . . No one personified that era better than Roscoe Turner. With his waxed mustache, polished boots, riding breeches, powder blue military jacket, diamond-studded aviator wings, and pet lion Gilmore, Turner (1895-1970) was just the kind of larger-than-life character aviation needed to capture the public's imagination. (Richmond Times-Dispatch)
or
Not Currently Available for Direct Purchase