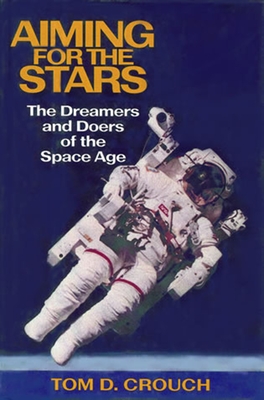 Aiming for the Stars (Paperback)
The Dreamers and Doers of the Space Age
Smithsonian Institution Scholarly Press, 9781560988335, 338pp.
Publication Date: August 17, 2000
Other Editions of This Title:
Hardcover (9/1/1999)
* Individual store prices may vary.
Description
Aiming for the Stars explores the motivations, goals, trials, and triumphs of the people who pioneered space exploration from the sixteenth century to the modern era. Tom D. Crouch describes space travel's emergence from the pages of science fiction into the laboratories of twentieth-century rocketeers such as Wernher von Braun, who masterminded Nazi rocket development and later became a key figure in the U.S. space program, and Sergei Korolev, an engineer whose successful launches became the foundation of Soviet Cold War policy. The book also explains the goals and missions of the Mercury, Gemini, and Apollo programs and describes the 1986 Challenge disaster, the spacefaring adventures of astronaut Shannon Lucid, and the fortunes of the Mir space station in the wake of glasnost. Linking individual obsessions and achievements with the political events and social currents that surrounded them, the book offers a wide-ranging view of the attempt to explore the final frontier.
About the Author
Tom D. Crouch is senior curator of aeronautics at the Smithsonian's National Air and Space Museum and the author of numerous award-winning books on aerospace history.
Praise For Aiming for the Stars: The Dreamers and Doers of the Space Age…
From Johannes Kepler's 17th-century drawing board to the Mars Society's Web site; from Apollo XI to Apollo XIII; from Russia's Mir space station (scheduled to return to Earth in bits) to American robots (scheduled to return to Mars, but when?), the story of human endeavors in outer space has plenty of physics and engineering, plenty of drama, plenty of heroism and not a few bits of hubris and folly. Crouch (whose previous work includes The Bishop's Boys, a biography of the Wright brothers) has produced a book far more informative than his gung-ho title suggests: his book explains, very accessibly, the prehistory and history of space flight, mixing accounts of key players (well known and unknown) with relevant technical and political history. Crouch covers not only rocket science pioneer Robert Goddard, but his German counterpart, Hermann Oberth, who in 1923 published Die Rakete zu den Planetenraumen (The Rocket into Interplanetary Space). Another chapter covers the U.S. and Soviet race to recruit ex-Nazi scientists: after Sputnik, a Pentagon spokesman was heard to complain, "We got the wrong Germans!" Wernher von Braun plays a big role in Crouch's account, but so do Soviet space expert Sergei Korolev, Caltech's eccentric experts John Parsons and Theodore von K rm n (who worked to invent better rocket motors) and the able technocrat James Webb, who took the helm of NASA after Kennedy promised the U.S. public the moon. Later chapters deal ably with the space stations of the 1970s, the space shuttle missions of the 1980s and the current use of commercial satellites and unmanned space exploration. (from Publishers Weekly; Illustrations not seen by PW. (Oct.); Copyright 1999 Reed Business Information, Inc.)

In this narrative history of the space age, Crouch (curator of Aeronautics, National Air and Space Museum) rounds up the usual suspectsAKonstantin Tsiolkovsky and Robert H. Goddard, Wernher von Braun and Sergei Korolev. He does a capable job of laying out the story of space travel for a general audience, focusing especially on the contributions these major players made in their lifetimes. He details both the manned programsAfrom Vostok and Mercury, to Apollo and Soyuz and on through the Shuttle and the International Space StationAto the major unmanned probes that have been sent to the planets. The only problem with this latest single-volume space history is that it covers the same ground as two other excellent and recent effortsAT.A. Heppenheimer's Countdown (LJ 5/15/97) and William Burrows's This New Ocean (LJ 9/15/98). Recommended for libraries (both public and academic) not holding either of these earlier works. (from Library Journal; A Thomas J. Frieling, Bainbridge Coll. Lib., GA; Copyright 1999 Reed Business Information, Inc.)

Aiming for the Stars is much more than an informative guide to the past, present, and future of the space program. It is also an inspiring personal account of the men and women who sacrificed so much for all of us along the pathways to space. If you have only one book on your shelf about space history, make it this one. Even the most avid space-flight junkie will find something new on every page. (Homer H. Hickam Jr.)
or
Not Currently Available for Direct Purchase