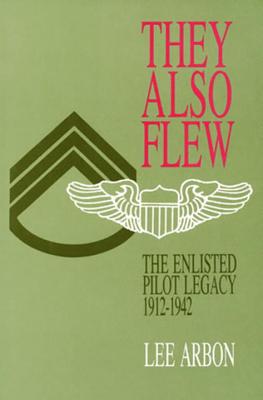 They Also Flew (Paperback)
The Enlisted Pilot Legacy, 1912-1942
Smithsonian Institution Scholarly Press, 9781560988373, 280pp.
Publication Date: February 17, 1998
* Individual store prices may vary.
Description
In 1912, when the United States opened an aviation school at the newly established Fort William McKinley in the Philippines, only one officer volunteered for pilot training. A corporal, recognizing his opportunity, stepped forward, becoming the first enlisted man in the history of United States military aviation to train as a pilot. Over the next thirty years, three thousand enlisted men would follow his lead. These men--mess cooks, mechanics, and civilian pilots among them--enabled the military to bring the number of pilots in its ranks up to combat strength. They Also Flew traces the history and achievements of enlisted pilots from their earliest days in flight through 1942. Regarded by the military as lacking the education or intelligence to fly, these "sergeant pilots" struggled to earn their wings in a military organization that traditionally reserved this position for commissioned officers. Lee Arbon details the contributions of these men to United States military aviation, recognizing the 17 "aces", the more than 155 men killed in action, and the 11 who were promoted to the rank of general. Presenting the recollections of fellow sergeant pilots as well as the author's own experiences in the cockpit, They Also Flew records the personal sagas of men determined to serve their country in the air.
About the Author
Lee Arbon flew combat missions in World War II as a sergeant pilot in the Mediterranean and was later commissioned in the field. He retired from the military as a major and as a B-47 Aircraft Commander in the Strategic Air Command. He is the author numerous articles based on more than a decade of research into the history of enlisted pilots.
Praise For They Also Flew: The Enlisted Pilot Legacy, 1912-1942…
Military pilots' wings were not always an officers' monopoly. Enlisted men flew before and during WW I. A congressional act of 1926 established a theoretical peacetime quota of enlisted pilots. With national mobilization in 1940, men whose formal educational qualifications fell below those required for commissioning were trained as sergeant pilots. In peace or war, however, enlisted pilots were seen as lacking command authority in too many crucial situations. In 1942 the program was abolished; most of its graduates were commissioned. First-time author Arbon substitutes anecdotes for analysis, describing individual experiences instead of addressing the relationship between technical proficiency and command. He also ignores the contemporary Navy and Marine Corps experience. Despite its shortcomings, this groundbreaking account may spark a comprehensive treatment of its hitherto-forgotten subject. Illustrated. (from Publishers Weekly; Copyright 1992 Reed Business Information, Inc. --This text refers to an out of print or unavailable edition of this title.)

A collection of anecdotes in the "I remember when . . . " vein tells the story of enlisted pilots in the Army Air Service, itself searching for a place in the nation's military system. The first pilots were certified in 1912, the last in 1942, when all pilots became commissioned officers. Bound together by a common love for flying, enlisted pilots served also as mechanics, crew chiefs, and line chiefs. World War II combat veteran Arbon includes a bibliography and makes generous use of appendixes, but he assumes readers have some acquaintance with early aircraft and aviation history. Recommended for those who served, plus academic libraries developing comprehensive collections on the subject. (from Library Journal; Charles Abshire, Mt. Hood Community Coll. Lib., Gresham, Ore.; Copyright 1992 Reed Business Information, Inc. --This text refers to an out of print or unavailable edition of this title.)

They Also Flew captures the spirit of these fine pilots who made significant contributions in both peace and war. (Military Review)

An important book. . . . [Lee Arbon has] preserved the record of a heretofore neglected chapter in aviation and American history. They Also Flew is a fascinating account of men who strived to succeed in a profession which largely ignored their existence, and it deserves to be read by anyone interested in military aviation and our national history. (Journal of Southwest Georgia History)

In this unique book, author Lee Arbon traces the legacy of the Army's enlisted airmen and their contribution to military aviation. (Ron Boydston The Southern Aviator)

[A] groundbreaking account. (Publishers Weekly)

Lee Arbon's book successfully . . . documents the legacy of enlisted pilots . . . who not only had to fight to earn their wings, but also had to repeatedly face a deep, entrenched prejudice. . . . Arbon has created a readable and entertaining record of a proud group of military aviators. (Air Power History)

Painstakingly researched and well written. (Abilene Reporter-News)
or
Not Currently Available for Direct Purchase