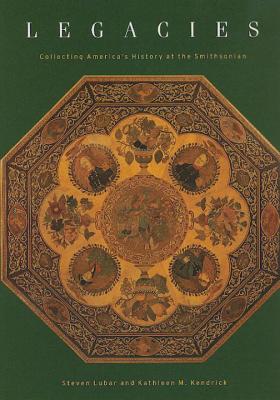 Legacies (Hardcover)
Collecting America's History at the Smithsonian
Smithsonian Institution Scholarly Press, 9781560988861, 256pp.
Publication Date: September 17, 2001
* Individual store prices may vary.
Description
The Smithsonian Institution has been America's museum since 1846. What do its vast collections -- from the ruby slippers to a piece of Plymouth Rock, first ladies' gowns to patchwork quilts, a Model T Ford to a customized Ford LTD low rider -- tell Americans about themselves? In this lavishly illustrated guide to the Smithsonian's National Museum of American History, Steven Lubar and Kathleen M. Kendrick tell the stories behind more than 250 of the museum's treasures, many of them never before photographed for publication. These stories not only reveal what America as a nation has decided to save and why but also speak to changing visions of national identity.

As the authors demonstrate, views of history change over time, methods of historical investigation evolve and improve, and America's understanding of the past matures. Shifts in focus and attitude lie at the hearth of Legacies, which is organized around four concepts of what a national museum of history can be: a treasure house, a shrine to the famous, a palace of progress, and a mirror of the nation. Thus, the museum collects cherished or precious objects, houses celebrity memorabilia, documents technological advances, and reflects visitors' own lives. Taking examples from science and technology, politics, decorative arts, military history, ethnic heritage, popular culture and everyday life, the authors provide historical context for the work of the Smithsonian and shed new light on what is important, and who is included, in American history. Throughout its history, Lubar and Kendrick conclude, the museum has played a vital role in both shaping and reflecting America's sense of itself as a nation.
About the Author
Steven Lubar has worked at the National Museum of American History for almost twenty years and has written widely on the history of technology, material culture, and public history. He is currently chair of the museum's division of the history of technology.

Kathleen M. Kendrick grew up in the Washington, DC area and spent many childhood field trips at the Smithsonian. In her current position as assistant curator of the museum's Star-Spangled Banner Project, she is helping develop an exhibition on the history and meaning of the American flag.
Praise For Legacies: Collecting America's History at the Smithsonian…
The Smithsonian Institution's National Museum of American History houses some 3.2 million artifacts. Some, such as the flag that inspired Francis Scott Key to write "The Star-Spangled Banner" and the first chunk of gold found at Sutter's Mill, are of indisputable importance; others, such as a sleeveless denim jacket worn by a late member of a motorcycle gang, may seem less significant to the casual observer.
But, write museum curators Steven Lubar and Kathleen Kendrick, every artifact in the museum's holdings is important in its own way. In this highly selective tour of the museum's inventory, they point out curiosities and treasures alike, all of them providing clues about the American past: a clamshell used in the Depression as currency, accepted as an object of value by the denizens of a California beach town; a fragment of a Confederate flag torn from its post by an angry Union sympathizer the day after Virginia voted for secession; the overstuffed chair from which actor Carroll O'Connor delivered Archie Bunker's diatribes on the sitcom All in the Family; a 1903 Teddy bear, made after then-president Theodore Roosevelt refused to shoot a bear cub while out hunting; Tom Thumb's hat, Prince's guitar, Cesar Chavez's windbreaker, and dozens of other items that chronicle the ever-changing culture.
Accompanied by 260 photographs, the book makes for a delightful and informative survey not only of the Smithsonian's extensive holdings, but also of the nation's past. History buffs and collectors will revel in it. (From Amazon.com, Gregory McNamee)

This is a beautifully illustrated guide to the Smithsonian's National Museum of American History. Through the stories behind more than 200 representative objects many not photographed previously for publication Lubar and Kendrick, both affiliated with the Smithsonian, propose to answer the question, "What do [the museum's] vast collections tell Americans about themselves?" Although popularly dubbed "the nation's attic," the museum houses items carefully selected by curators to reveal our national identity. Until recently, that history was told from the dominant perspective of white, mostly male Americans. However, say the authors, "objects collected to tell one story can tell another indeed, many others." Thus, by examining the kinds of artifacts collected, as well as debates over what is accessed, this volume illuminates historical attitudes about entitlement among the privileged, and about the ensuing struggles for power and recognition by the excluded. The eclectic collage of artifacts ranges from the curious (an 1860s phrenology model used to decipher personality and behavior) to the provocative (the uniform of a WWI woman contract-surgeon). Elegant acquisitions, such as first ladies' inaugural gowns, are preserved along with the mundane (the Veg-O-Matic) and popular culture (Archie and Edith Bunkers' chairs), as well as scientific and technological advances. In every case, stories are the key elements that transform each specimen into a legacy worth preserving. Moreover, the layers and complexities of underlying stories allow new levels of meaning to emerge, as views of history change. The book explores much about how we see ourselves, and how we, at this point in time, fit into the continuum of history. 240 color and 20 b&w photographs, (Sept.) Forecast: Legacies will also be a virtual exhibit on the Web at www.smithsonianlegacies.si.edu, which will launch on Sept. 20. (From Publishers Weekly; Copyright 2001 Cahners Business Information, Inc.)

Described as a history of history, this book explores the background and meaning of the artifact collections at the Smithsonian's National Museum of American History. Lubar (InfoCulture), chair of the museum's division of history and technology, and Kendrick, assistant curator of the Star-Spangled Banner Project, present a telling and thoughtful explanation of the evolving manner of interpretation and exhibition and of the complex task of using the relics to shape a national identity. The authors also examine the value of the relics, describe the context and juxtaposition of their exhibition, present a historical summary of synoptic and geographic display, and contemplate the museum's changing reflection of the nation's heritage. Handsomely illustrated with photographs of over 250 relics, this is an enlightening story of how the museum's artifacts reflect "what Americans have valued, whom we have honored, how we have related the past to the present, and how we have seen ourselves as a nation." Highly recommended for all public libraries with cultural or travel collections. (From Library Journal; John E. Hodgkins, Yarmouth, ME; Copyright 2001 Reed Business Information, Inc.)
or
Not Currently Available for Direct Purchase