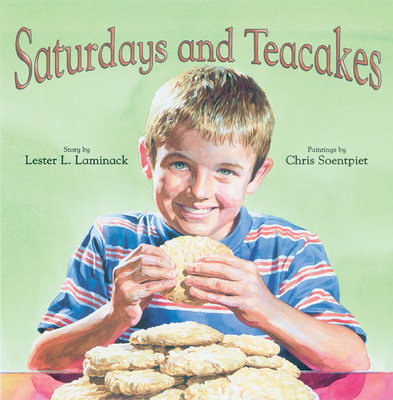 Saturdays and Teacakes (Hardcover)
Peachtree Publishers, 9781561453030, 1pp.
Publication Date: March 1, 2004
* Individual store prices may vary.
or
Not Currently Available for Direct Purchase
Description
So begins author Lester Laminack's poetic memory of the adult who made him feel incredibly special--his grandmother. Every Saturday, the narrator, a young boy, rides his bicycle up and down country roads past farms, a grave-yard, and a filling station, until he reaches his beloved Mammaw's house. She is waiting for him. No one else, just him. While she picks tomatoes, he pushes the lawnmower through the dew-we grass. Afterwards, he always helps her make teacakes from scratch, breaking the eggs and stirring the batter. But the best part, he remembers, is eating the hot, sweet cookies fresh from the oven. Children will understand the special love between the boy and his grandmother. Set in a small own in the "Leave It to Beaver days of the mid-sixties, the story evokes a gentler and more innocent time and place. Young readers will almost hear the crunch of bicycle wheels on gravel and the "criiick-craaack-criick of a metal glider in Laminack's richly detailed prose. Award-winning illustrator Chris Soentpiet's images beautifully capture the relationship and the place, perfectly depicting the simplicity of an earlier time.

Advertisement