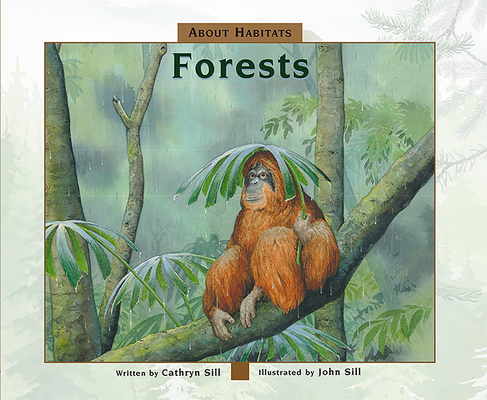 About Habitats
Forests
Hardcover

* Individual store prices may vary.
Description
This beginner's guide and classroom favorite explores the major attributes of forests. From the creators of the award-winning About Habitats and About... series.
"An effective, gentle, and realistic introduction." ―Booklist
In this addition to the celebrated About Habitats series, former educator and author Cathryn Sill uses simple, easy-to-understand language to teach children what forests are and how various species of animals and plants have adapted to life in these habitats.
Noted wildlife illustrator John Sill offers detailed, full-color illustrations to show the characteristics of different types of forests--from the cold boreal forests of the northern hemisphere to the warm tropical forests near the equator--as well as the animals and plants that live there. A glossary and afterword provide further details.
The About Habitats series introduces children to specific habitats and their living and nonliving components. Each book in the series provides information about the nature and characteristics of the habitat while the full-page illustrations expand on that information.
Also available by Cathryn and John Sill:
About Habitats: Deserts
About Habitats: Grasslands
About Habitats: Mountains
About Habitats: Oceans
About Habitats: Polar Regions
About Habitats: Rivers and Streams
About Habitats: Seashores
About Habitats: Wetlands
Awards:
Outstanding Science Trade Books for Students K-12 ―National Science Teacher Association, Children's Book Council
NSTA Recommends ―National Science Teachers Association
Kansas State Reading Circle Recommended Reading List (Primary) ―Kansas National Education Association
North Carolina Author Awards (Nominee, AAUW Award for Juvenile Literature) ―North Carolina Literary & Historical Association, 2015
Peachtree Publishing Company, 9781561457342, 1pp.
Publication Date: March 1, 2014
or
Not Currently Available for Direct Purchase