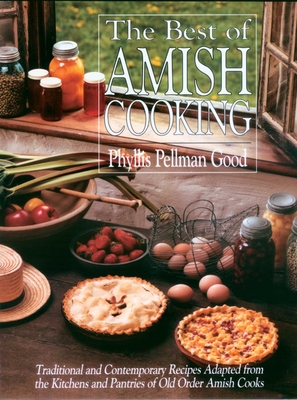 The Best of Amish Cooking: Traditional and Contemporary Recipes Adapted from the Kitchens and Pantries of Old Order Amish Cooks (Paperback)
Traditional and Contemporary Recipes Adapted from the Kitchens and Pantries of Old Order Amish Cooks
Good Books, 9781561484072, 224pp.
Publication Date: December 1, 1969
* Individual store prices may vary.
or
Not Currently Available for Direct Purchase
Description

Bestselling author, Phyllis Pellman Good, spent years gathering these recipes from Amish cooks, diaries, and old recipe collections from the Amish of Lancaster County, Pa. Delicious, savory recipes adapted for the everyday cook.
Recipes adapted form the kitchens and pantries of Amish cooks. Presented in their historical setting. Beautiful color photos. Delicious, savory recipes. Better Homes and Gardens Books Club.
Featured by Book of the Month Club.
Better Homes and Gardens Cook Books Club. This beautiful book by a leading expert on Amish cooking highlights traditional and contemporary recipes adapted from the kitchens and pantries of Amish cooks. Phyllis Pellman Good has spent years researching these foods. She has interviewed Amish grandmothers and dipped into old books, diaries, and recipe boxes. The dishes she selected are ones that were and continue to be popular in eastern Pennsylvania, usually in the Lancaster area. According to Good, they reflect the fruitfulness of Amish fields and gardens, as well as the group's emphasis on family and community. Wonderful descriptions and introductions prepare the setting. And delicious, savory recipes fill this book with some of the best food you'll find anywhere.
About the Author
Phyllis Pellman Good is a New York Times bestselling author whose books have sold more than 11 million copies. Good is the author of the nationally acclaimed Fix-It and Forget-It slow-cooker cookbooks, several of which have appeared on the New York Times bestseller list, as well as the bestseller lists of USA Today, Publishers Weekly, and Book Sense. The series includes eight titles. The most recent are Fix-It and Forget-It Pink Cookbook, to benefit the Avon Foundation and Fix-It and Forget-It Diabetic Cookbook, Revised and Updated, with the American Diabetes Association. Good is also the author of the Fix-It and Enjoy-It series, a "cousin" series to the phenomenally successful Fix-It and Forget-It Cookbooks. Phyllis Pellman Good is Executive Editor at Good Books. (Good Books has published hundreds of titles by more than 135 authors.) She received her B.A. and M.A. in English from New York University. She and her husband, Merle, are the parents of two young-adult daughters. For a complete listing of books by Phyllis Pellman Good, as well as excerpts and reviews, visit www.Fix-ItandForget-It.com or www.GoodBooks.com.
Advertisement