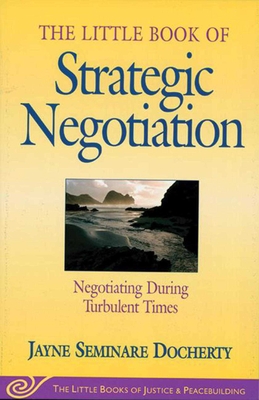 Little Book of Strategic Negotiation (Paperback)
Negotiating During Turbulent Times
Good Books, 9781561484287, 90pp.
Publication Date: October 1, 2004
* Individual store prices may vary.
Description
          Most books on negotiation assume that the negotiators are in a stable settintg.           But what about those far thornier times when negotiation needs to happen while other fundamental factors are in uproarious change— deciding which parent will have custody of their child while a divorce is underway; bargaining between workers and management during the course of a merger and downsizing; or establishing a new government as a civil war winds down.           From Docherty's experiences in environmental/public policy negotiations and community development work. A title in The Little Books of Justice and Peacebuilding Series.
About the Author
Jayne Seminare Docherty is a professor of conflict studies at the Center for Justice and Peacebuilding at Eastern Mennonite University. She has also taught at George Mason University and Columbia College (South Carolina). Professor Docherty earned her Ph.D. at the Institute for Conflict Analysis and Resolution at George Mason University and she holds an undergraduate degree in religious studies and political science from Brown University. She also studied theology at the University of St. Andrews in Scotland. Professor Docherty consults with organizations and communities in transition, working with them to harness the positive energy of conflict and minimize its negative effects. Her current area of focus for research, writing and practice is improving the use of negotiation in unstable situations so that the results yield durable but flexible systems for creating long-term and sustainable peace with justice. She has also conducted research - especially action research projects - for nonprofit organizations; consulted on designing, monitoring and evaluating projects and programs; worked with universities on curriculum development; and conducted trainings on conflict analysis, negotiation, and program design. She holds an B.A., from Brown University (1978) in Religious Studies and Political Science and a Ph.D., from George Mason University (1998) in Conflict Analysis and Resolution.