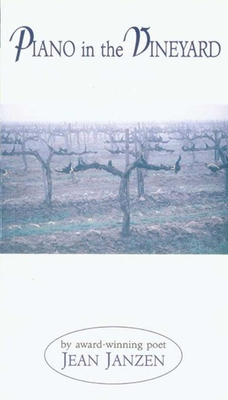 Piano in the Vineyard (Paperback)
Good Books, 9781561484294, 74pp.
Publication Date: September 25, 2004
* Individual store prices may vary.
Description
          Once again, Jean Janzen writes mighty poems, finding those heart-stopping human moments for which there is no adequate language. Janzen, a National Endowment for the Arts winner, begins this newest collection of poetry with "Wailing in the Shower" and these arresting stanzas: "After the elation of giving birth, our new daughter fed and sleeping, I stand under the warm water and begin on the high notes-- Madame Butterfly's ecstasy, One fine day in May, the harmony sliding over my body. After the loss of his bride, our friend turns on the guestroom shower and begins his long wailing. It echoes through the house, flows down the stairway, his baritone cries rising and falling. Over and over, the full octaves."           And she goes on to mark the full-throated human experience, placing her 42 poems into these sections: "Broken Places," "The Garden," "Carving the Hollow," and, finally, "Piano in the Vineyard." In every poem Janzen is utterly conscious of the unspeakable wonder and terror of being alive. Jean Janzen is a winner of The Creative Writing Fellowship from the National Endowment for the Arts.
About the Author
Jean Wiebe Janzen was born in Saskatchewan, was raised in the Midwestern United States, and now lives in Fresno, California. She was selected for The Creative Writing Fellowship from the National Endowment for the Arts for her poetry. She completed her undergraduate studies at Fresno Pacific University and received a Master of Arts at California State University of Fresno. Collections of her poetry previously published by Good Books include Snake in the Parsonage (1995), Tasting the Dust (2000), and Piano in the Vineyard (2004). Her verse also has been collected in Words for the Silence (Center for Mennonite Brethren Studies, 1984) and The Upside-Down Tree (Henderson Books, 1992). Janzen's poetry has been published in Poetry, Gettysburg Review, Prairie Schooner, Image, Christian Century, Poetry International, ?The Common Reader, The Great River Review, and Cincinnati Poetry Review. Among the poetry anthologies in which her poems appear are Highway 99: ?A Literary Journey Through California's Great Central Valley (Heyday Books), What Will Suffice: ?Contemporary American Poets on the Art of Poetry (Peregrine Smith Books), and Elements of Faithful Writing (Pandora Press).