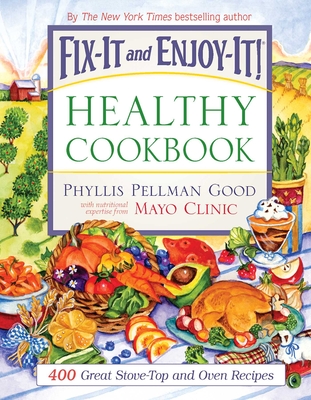 Fix-It and Enjoy-It! Healthy Cookbook: 400 Great Stove-Top and Oven Recipes (Paperback)
400 Great Stove-Top and Oven Recipes
Good Books, 9781561486410, 283pp.
Publication Date: January 1, 2009
* Individual store prices may vary.
or
Not Currently Available for Direct Purchase
Description

With more than 400 great tasting, stove-top and oven recipes that are easy to prepare and HEALTHY From the bestselling author of the Fix-It and Forget-It slow cooker series and the nutritional experts at Mayo Clinic.
Can you believe it? Great tasty recipes that are easy to prepare-- and they're HEALTHY Bring New York Times bestselling author Phyllis Pellman Good together with the prestigious Mayo Clinic, and that's what you have--irresistibly tasty food that's easy to prepare and nutritious in the bargain Just "fix it and enjoy it " Fix-It and Enjoy-It Healthy Cookbook is packed with more than 400 recipes for stove-top and oven cooking. "I am dedicated to offering recipes that make it possible to eat at home, even if you don't have much time, or radiant cooking skills " says Good. "Here are hundreds of 'make-it-again' recipes from great home cooks--with nutritional punch "I am delighted to have teamed up with Mayo Clinic, whose dietitians have analyzed all the recipes for their nutritional value. Together, we've adapted the recipes to fit within Mayo Clinic's Healthy Weight Pyramid." Each delicious recipe includes Prep Time, Cooking/Baking Time, its own nutrient analysis, and its number of Pyramid servings. A treasury of more than 400 tasty, HEALTHY recipes Enjoy it.
About the Author
Phyllis Pellman Good is a New York Times bestselling author whose books have sold more than 11 million copies. Good is the author of the nationally acclaimed Fix-It and Forget-It slow-cooker cookbooks, several of which have appeared on the New York Times bestseller list, as well as the bestseller lists of USA Today, Publishers Weekly, and Book Sense. The series includes eight titles. The most recent are Fix-It and Forget-It Pink Cookbook, to benefit the Avon Foundation and Fix-It and Forget-It Diabetic Cookbook, Revised and Updated, with the American Diabetes Association. Good is also the author of the Fix-It and Enjoy-It series, a "cousin" series to the phenomenally successful Fix-It and Forget-It Cookbooks. Phyllis Pellman Good is Executive Editor at Good Books. (Good Books has published hundreds of titles by more than 135 authors.) She received her B.A. and M.A. in English from New York University. She and her husband, Merle, are the parents of two young-adult daughters. For a complete listing of books by Phyllis Pellman Good, as well as excerpts and reviews, visit www.Fix-ItandForget-It.com or www.GoodBooks.com.
Advertisement