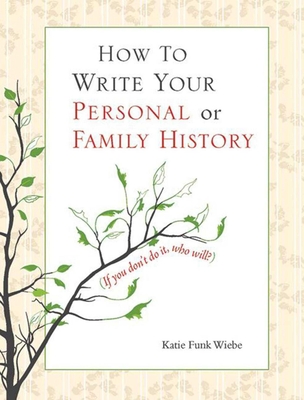 How to Write Your Personal or Family History (Paperback)
(If You Don't Do It, Who Will?)
Good Books, 9781561486656, 222pp.
Publication Date: June 1, 2009
Other Editions of This Title:
Paperback (2/7/2017)
* Individual store prices may vary.
Description
          This is a practical—and encouraging—how-to book from a long-time teacher of personal and family history writing. Katie Funk Wiebe helps beginning memoir writers get started collecting the stories of their lives. She gives hints for recalling distant memories and tracking down family heirlooms. The author debunks budding writers' fears that their lives haven't been eventful enough. And she offers timely nudges, gentle coaxing, and constructive criticism along the way.           There are tips on writing, exercises to prod the memory, and advice on looking at the broad scope of a well-lived life. "You've been living 24 hours every day, making decisions, objecting to certain ideas, endorsing others, and interacting with family and coworkers," the author writes. "I plan to convince you that if you took time to reflect, you'd find lots of meaningful stuff going on." A serious but accessible resource for undertaking your personal or family history writing.
About the Author
Katie Funk Wiebe, professor emeritus of Tabor College, retired in 1990 after teaching English for 24 years. She has devoted her retirement years to bringing meaning to life through writing and speaking. Wiebe grew up in northern Saskatchewan, the daughter of Russian-German immigrants. With her husband and children, she came to Kansas in 1962. Her husband died seven weeks later. That experience prompted the writing of her first book, Alone: A Widow's Search for Joy. She followed that with several other memoirs and personal histories. In addition to hundreds of articles, she has written and/or edited 18 books, recently focusing on aging. The Mennonite Health Association honored her with the Anabaptist Healthcare Award in 1993 for her work in mental health, women's issues, and aging. Wiebe is the mother of three children, grandmother of seven, and great-grandmother of five. She lives in Wichita, Kansas.