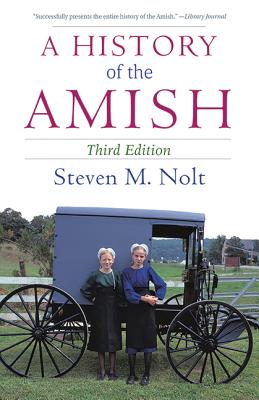 A History of the Amish
Third Edition
Paperback

* Individual store prices may vary.
Other Editions of This Title:
Paperback (2/2/2016)
Paperback (4/1/2004)
MP3 CD (9/20/2016)
Description

Authoritative, thorough, and approachable, this book brings together, for the first time in one volume, the history of the Amish, one of America's most intriguing people. Written by one of the foremost scholars in the field and revised and updated to include a look at how the Amish continue to thrive and grow, despite change, tragedy, and the media's constant fascination with their community.
The Amish, one of America's most intriguingly private, unique, and often misunderstood religious communities, have survived for 300 years How has that happened? While much has been written on the Amish recently, little has appeared about their history. This book brings together for the first time in one volume a thorough history of the Amish people. From their beginnings in Europe through their settlement in North America, the Amish have struggled to maintain their beliefs and traditions in often hostile settings. Now updated, the book gives an in-depth look at how the modern Amish church continues to grow and change. It covers recent developments in new Amish settlements, the community's conflict and negotiation with government, the Nickel Mines school shooting, and the media's constant fascination with this religious people, from reality TV shows to romance novels. Authoritative, thorough, and interestingly written, A History of the Amish presents the deep and rich heritage of the Amish people. Dozens of illustrations and updated statistics.
Good Books, 9781561488254, 380pp.
Publication Date: March 4, 2014
About the Author
Steven M. Nolt is professor of history at Goshen College and a foremost scholar of the Amish and their current practices. Since 1999 he has worked with sociologist Thomas J. Meyers to document the history and contemporary life of Indiana's Old Order communities. He has also joined sociologist Donald B. Kraybill in charting the social and economic shifts among Pennsylvania Amish families moving from farming to non-farm occupations. Nolt earned a Ph.D. from the University of Notre Dame.
or
Not Currently Available for Direct Purchase