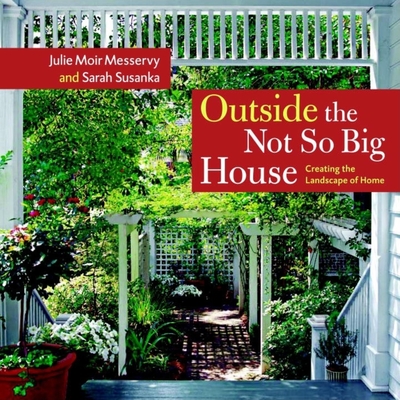 Outside the Not So Big House: Creating the Landscape of Home (Hardcover)
Creating the Landscape of Home
Taunton Press, 9781561587346, 210pp.
Publication Date: February 7, 2006
Description
In this groundbreaking book, noted landscape designer and award-winning writer Julie Moir Messervy and bestselling author Sarah Susanka reveal how to bring house and garden into perfect harmony. After all, who doesn't yearn for a landscape that is as well designed as the interior of their home? In "Outside the Not So Big House," Julie and Sarah teach you everything you need to know about the design concepts essential to extending your home beyond its four walls.
Lushly photographed and illustrated with vivid drawings, "Outside the Not So Big House" explores how to build pathways and journeys in your gardens; how to make the most of your site; how to use details to bring it all together. Twenty homes from across the country aptly illustrate these easy-to-grasp design ideas. Fans of Sarah's previous Not So Big books will be pleased to discover not only Julie's clear, concise prose but also a new vision for creating home.
Praise For Outside the Not So Big House: Creating the Landscape of Home…
There are gardening books that tell us what to plant and where. And there are architectural design books that tell us how our homes should look. But never the twain seem to meet. At least not until recently, when the two spaces -- home and garden -- wed harmoniously in the new book, "Outside the Not So Big House" by Sarah Susanka and Julie Moir Messervy.
-- NINA A. KOZIOL, The Chicago Tribune
This beautiful book combines the best qualities of coffee-table attractiveness and excellent advice. It pairs Susanka - author of previous "Not So Big House" books, which emphasize the trend toward smaller homes - and noted landscape and garden designer Julie Moir Messervy. They label their landscaping concept "opening up the relationship of indoors and out," and encourage readers to make the most of each.
--JUDY LOWE, Christian Science Monitor
"Outside the Not So Big House" by Julie Moir Messervy and Sarah Susanka deals with landscaping, planting and hard-scaping everything from entrances to pathways, arbors, patios and streetscapes to make the most of tight spaces. Planting sketches, lush photographs and specific problem-solving advice make it a handy reference, complete with plant names and diagrams. It's a pretty coffee-table topper, too.
--JOY CRAFT, Cincinnati Enquirer
The premise of this book is that home landscaping should be special to bring out the residence's best features (or hide its drawbacks). On my scale of one to 10, this outstanding new book rates a solid 10.
--ROBERT J. BRUSS, Miami Herald
With its plentiful photos and plans, this beautiful book is a useful tool for learning to look at the familiar in new ways.
- JARRETT SMITH Minneapolis Star Tribune
In 'Outside the Not So Big House, ' the authors describe many ways, both large and small, of connecting a house intimately to its land.
--ANNE RAVER, The New York Times
"This perfect collaboration between the talented and articulate Julie Moir Messervy and Sarah Susanka proves what a huge pleasure the landscape of a 'not so big' house can be. A must read..."
--Tom Christopher, columnist, "House & Garden "magazine
"Sarah Susanka and Julie Moir Messervy's clearly written text offers practical advice for designing indoor-outdoor spaces that respond to modern lifestyles. They reveal secrets for achieving the ideal combination of architecture and nature in the home and in the garden."
--James A. van Sweden, Fellow, American Society of Landscape Architects and author of "Architecture in the Garden"
Advertisement