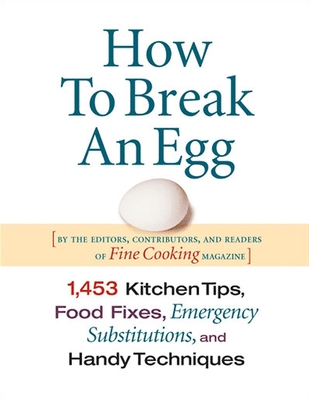 How to Break an Egg: 1,453 Kitchen Tips, Food Fixes, Emergency Substitutions, and Handy Techniques (Hardcover)
1,453 Kitchen Tips, Food Fixes, Emergency Substitutions, and Handy Techniques
Taunton Press, 9781561587988, 394pp.
Publication Date: October 4, 2005
Description
Need a cool way to handle hot chiles? Looking to cut down on kitchen clean-up? Let the readers, contributors, and editors of "Fine Cooking" magazine show you the way. "How to Break an Egg" is a one-of-a-kind resource of more than 1,400 kitchen-tested tips, shortcuts, and ingenious solutions to culinary emergencies, all organized in an easy-to-access format for quick reference or more leisurely reading. Look under Basil in the Ingredients chapter and you'll find tips for drying it, keeping its bright green color, and making your pesto go further. Look under Cookies in the Cooking chapter for clever ways to roll out cookie dough without it sticking, or to form perfectly shaped cookies, or to get just the right texture you want in your chocolate chip. You'll also discover tips on cookware and utensils, serving, storage, clean-up, and kitchen safety.
If disaster strikes, flip immediately to When Things Go Wrong, an invaluable chapter of troubleshooting charts, whether your souffle is falling, your cheese sauce is curdling, or you've just discovered you don't have the right size pan for the cake you're in the middle of mixing up. In Handy Kitchen Techniques, you'll find 42 basic prep techniques, from trussing a chicken to clarifying butter, illustrated step-by-step in full color.
The perfect reference for cooks at any level, "How to Break an Egg" will be your indispensable go-to kitchen resource.
"In my cooking classes and on my radio show, I get those thorny questions regarding recipe disasters. Phew Now I won't hve to make up 'creative answers' anymore. For the solution to every culinary dilemma, run out right now and pick up a copy of, "How to Break an Egg,""
--TomDouglas, restaurateur and author of "Tom's Big Dinners"
"No kitchen is totally complete unless this book is on the shelf. It's a wealth of information, and I personally could not do without it "
--Paula Deen, author of "Paula Deen&Friends: Living it Up, Southern Style"
"How do you create a warm place to proof bread or make a quick cup of buttermilk? Ever think of cutting cheesecake with a fishing line or defatting stock with ice cubes? The answers to these and hundreds of other practical questions rarely addressed in even the most sophisticated cookbooks are provided in this revolutionary new reference manual no serious cook can do without. I've waited a lifetime for an authoritative, sensible, reliable kitchen companion such as "How to Break an Egg" and cannot recommend the book highly enough. Just reading through it is an invaluable class in itself."
--James Villas, author of "Crazy for Casseroles" and "Biscuit Bliss"
"This is a terrific resource reference book and one that I think every cook, whether just beginning or old pro, will find helpful on a regular basis. "Fine Cooking" has been one of my favorite culinary magazines for a long time and "How to Break an Egg" reflects their friendly, researched, and illustrated approach that I look forward to reading every month."
--John Ash, restaurateur and author of "John Ash Cooking One on One"
"A good chef never serves his or her mistakes. Now you don't have to. Finally a fix-it manual for your kitchen."
--Tom Colicchio, Chef/Owner of Craft restaurants and Gramercy Tavern.
Praise For How to Break an Egg: 1,453 Kitchen Tips, Food Fixes, Emergency Substitutions, and Handy Techniques…
"(How to Break an Egg) Excellent, excellent book"
- "Sara Moulton, Good Morning America
""This little book packs a lot of wisdom for the price. It's not a cookbook, but rather a compendium of all those cool little Fine Cooking tips that you hope you will remember when you need them.....It's ever so much better than reading directions in a recipe."
"- Cathy Barber, Dallas Morning News
""How to Break an Egg is designed to be a kitchen staple -- a place to go when you have a food question or problem and need a simple-to-understand answer. It's fun to sit down and read in order to discover the interesting ways cooks have come up with to solve some intriguing culinary problems."
"- Karen Haram, San Antonio Express-News
""Even great home cooks sometimes need a bit of guidance in the kitchen. After all, no matter how many emergencies you've run into or how many jams you've substituted your way through, there's always another you haven't yet tackled. How to Break an Egg addresses all these and more for everyone from restaurant-ready cooks to folks who need to learn how to separate a yolk from the whites."
"- Chicago Sun-Times
""Fine Cooking magazine calls them "ah-ha" moments. The book, How To Break an Egg is full of such inspirations."
"- Rocky Mountain News
"
"How to Break an Egg has the answers...The tips are great, fun and sometimes a little weird."
"- Cabin Living magazine
""How to Break an Egg is a one-of-kind resource of more than 1,400 kitchen-tested tips, shortcuts and ingenious solutions to culinary emergencies- all organized in an easy-to-acess format for quick reference or more leisurely reading."
"- Home Improvement Dallas
""Anyonewho enjoys cooking and creating culinary masterpieces will appreciate the useful tips and clever techniques compiled by the editors of this very unusual but handy kitchen guide."
"- Monterey County Herald"
Advertisement