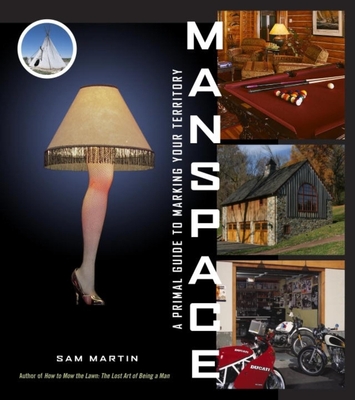 Manspace: A Primal Guide to Marking Your Territory (Hardcover)
A Primal Guide to Marking Your Territory
Taunton Press, 9781561588206, 218pp.
Publication Date: October 3, 2006
* Individual store prices may vary.
or
Not Currently Available for Direct Purchase
Description
It's the book version of HGTV meets ESPN: For the millions of men around the world who have ceded their bachelor pad decor to laundry rooms and playrooms, ManSpace provides inspiration for men to reclaim private spaces that offer more than big screen TVs and recliners.
ManSpace is a refreshing take on the spaces in and around the home that men claim as their own. The smoking room, the garage workshop, the basement pool room, the recording studio or the wine cellar are just a few examples of the spaces men carve out of their homes. Manspace will profile these spaces to offer inspiration and ideas to other men looking for a way to create personalized places dedicated to their work and play. ManSpace profiles around 50 different spaces from converted air streams trailers and attics to extra bedrooms and out buildings to entire houses dedicated to a man's possessions and activities.
Praise For Manspace: A Primal Guide to Marking Your Territory…
" Hear, hear! Whether you've been relegated to a nook in the back of a closet or have already found your " space, " Sam Martin's enjoyable book has something for all of us guys. Make your own wine, box in a garage gym -- take your pick, the vicarious fantasizing and inspirational motivation to do your own " guy thing" abound here. For us men, Martin's book is just what is the doctor ordered: the guy's answer to Sex and the City." --Will Staeger, executive producer of ESPN Original Entertainment and critically acclaimed author of Painkiller
" The greatest thing that author Sam Martin does with " Manspace: A Primal Guide to Marking Your Territory" is provide what should be inspiration not only to men but also to women. He shows how orderly, clever and downright beautiful a " manspace" can be, and that should appeal to women, who so often exercise veto power over male habitats. And to men, this book offers a collection of possibilities so broad and enticing that a guy may be tempted to let her have the rest of the property -- who cares? Just in case it's a hard sell, however, Martin, former editor of This Old House and Mother Earth News magazines, offers persuasion strategies for men.--Chicago Tribune
Whether it's a bachelor pad or a McMansion, a man's home is his and his alone--until his significant other moves in. At that point or quickly thereafter, the living room Barcalounger is relegated to the basement or donated to charity. Motorcycle posters are replaced by impressionist prints. Baby nurseries and sewing and laundry rooms usurp TV rooms. Cigar smoking is banned. Ditto for bowling trophies, pinball machines and baseballcard collections. Oh, men are still allowed in the home, but their bachelor decor is history, and their manly territory transformed...At 218 pages, " Manspace" is about those spaces men have staked out for themselves. Some are elegantly designed, others are uniquely handmade. --Detroit News
There was a time when a man knew his place in the home. And usually, it was in the garage. But, you know, things have a way of changing. First women get to vote and now, apparently, men are clamoring for a sanctuary to call their own inside the actual house. In extreme cases, this can lead to rooms like the " Man Cave" at the 2006 Seattle Street of Dreams a manly underground retreat, part wine cellar, part sports bar, part nuclear-bomb bunker. And, of course, it can lead to a book." Manspace: A Primal Guide to Marking Your Territory, " by Sam Martin (The Taunton Press, $24.95), is a virtual showcase of real men's special spaces.--Sandy Dunham, Seattle Times
Playpens for men. Yeah, we're fine with the blurred gender roles of modern times. But we still beat our chests over Sam Martin's book Manspace: A Primal Guide to Marking Your Territory (Taunton Press, Oct. 17). The guys whose personal space is explored in its photos don't settle for the basement or garage.--Christian Science Monitor
Advertisement