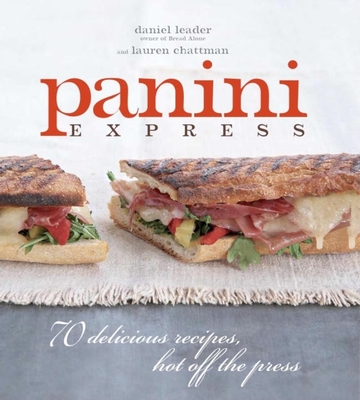 Panini Express: 70 Delicious Recipes Hot Off the Press (Hardcover)
70 Delicious Recipes Hot Off the Press
Taunton Press, 9781561589609, 144pp.
Publication Date: February 26, 2008
Description
In Panini Express, authors Daniel Leader and Lauren Chattman bring the warm, melted, grilled goodness of panini right to your kitchen. With 70 easy recipes for deliciously different sandwiches you can make with your panini press, savoring the flavors of Italy has never been so easy. Daniel and Lauren go beyond the traditional to offer up a world of tasty treats--Artichokes, Roasted Tomatoes & Goat Cheese on Baguette; Caesar Shrimp & Arugula Sandwiches; Ham, Brie & Apple French Toast, Roast Beef with Blue Cheese & Bacon on Ciabatta Rolls.
There are even dessert panini (try the Open-Faced Blueberry & Creme Fraiche Brioche Sandwich) to sweeten your palate. And for those in a completely-homemade frame of mind, Panini Express also includes from-scratch bread and roll recipes, as well as sprightly spreads and other condiments like Chipotle Ketchup and Lemon-Tarragon Mayonnaise to up the flavor quotient. With Panini Express, discover the pleasures of making your own perfectly grilled sandwiches.
Praise For Panini Express: 70 Delicious Recipes Hot Off the Press…
"I have long admired Dan's commitment to Artisanal bread making. In Panini Express, he shows that his passion for the perfect sandwich goes far beyond the bread." --Chef Terrance Brennan, author of  Artisanal Cooking
"Panini Express celebrates the delicious combinations of warm bread, melted cheese, and a global array of fillings--the results are mouthwatering."--Rick Smilow, President and Owner, The Institute of Culinary Education
"You know a food has really arrived when they start writing books about it. Case in point: Panini Express by bread maven and former Western New Yorker Daniel Leader, author of Bread Alone, and Lauren Chattman. This time, Leader takes a more popular approach. His book features glorious food photography and very simple recipes for fillings and spreads. But just in case you're feeling energized, he tells you how to make the bread for the panini, too."--The Buffalo News
"All too often, when I think sandwich, I think tuna salad or mustard, mayo and meat. In summer, I expand to include the classic BLT, but the reality is that I lack sandwich-imagination. When I opened Panini Express I realized my problem: A sandwich isn't just something with bread, it's an entire meal wrapped in bread. Inside this thin handbook are recipes for placing on bread a host of dinner-worthy menu items; asparagus, prosciutto and Taleggio; filet mignon, mushrooms and red pepper-garlic mayo; tuna, fava beans and Asiago; grilled chicken with Asian slaw. What's nice is that even though the book provides recipes to bake my own bread, authors Daniel Leader and Lauren Chattman openly admit that there are plenty of shortcuts to a great panini. There are several recipes for hopping up the flavor in store-bought mayonnaise, a baba ghanoush recipe that can be made in 5 minutes, even a 20-minute ratatouille recipe. "--Contra Costa Times (CA)
"Known for his artisanal bread bakery, Daniel Leader tells what fillings are worthy of his loaves. There are French classics (the Croque Monsieur), meatier sandwiches, poultry offerings (try the Smoked Chicken, St. Andre and Pear-Apple Compote) and still plenty to satisfy vegetarians. We gravitated to the Grilled Italian Hero Sandwich. A tastier cousin of the cold-cut version, this panini had an extra kick from sliced pepperoncini and arugula. If you're still hungry, Leader includes dessert sandwiches and other sections on making your own bread and condiments." --Allentown Morning Call (PA)

 
Advertisement